Beneath the Church of Merikka
(
21
)
Village of Briarsgate, Gran March, Greyhawk
Day Eight. After midnight. Sunday, October 23nd, 576 CY
Cloudy, damp, cold, misty
The unspeakable, shrieking horror lies dead.
The heroes gird themselves to delve deeper into the labyrinthine tombs beneath the church of blasphemy.
By Urdur's torchlight, they cautiously creep through the silent crypt maze, treading upon the tombstones of the dead.
Four times, they must turn back from shadow-filled dead ends.
Finally, they discover what might be a way out of the twisting, brick warren.
A doorway opens into a jagged, rocky tunnel that slopes down into absolute darkness (
22
).
But from that yawning, black maw emanates a terrible stench.
A chill crawls upon their flesh as Grothnak and Telkis recognize the unmistakable scent of the abominable serpent men that were
encountered beneath the abandoned Foaming Mug Inn.
The two warriors cannot help but remember with dread their heinous inhuman visages: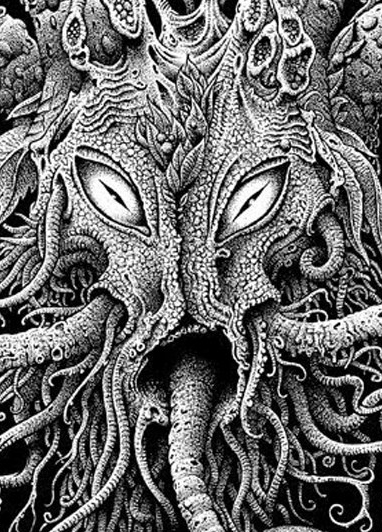 Actions?!
Map:
PCs are marked by their white initials. Lighter area represents visibility. All else is from memory.
X=last known position of the Thing.
PC Status:
Grothnak Uthglukh, Half-Orc Fighter 3: Move: 9", AC: 3, HP: 24/28
Telkis Brassfang, Gnome Fighter 3: Move: 9", AC: 0, HP:

5

/28
Urdur Shimmerstone, Gnome Illusionist 2: Move: 12", AC 6, HP

4

/6, Spells: 1/2 1st lvl, Torch
PC Resources: