The group, electing to voluntarily spend another full day holed up in the secured boss room, manages to get plenty of rest between performing their routine, downtime tasks.
Mila
carves out some time to finish the dirty work of cleaning the wolf hide she skinned previously. The chamber is large, and she performs her task a far corner, but the smell in the confined area is still pretty revolting.
Junius
, asleep while
AdaRue
performed her earlier inspection, slowly walks the perimeter of the chamber the group is in. Searching the walls and flooring for secret entrances, the dwarf also comes up empty.
"I don't get it,
AdaRue
states after hearing the message written upon the cloak.
"So we know these caves are really deep, and there's a "false king," and someone named 'Nulwid,' but that message could have been written decades ago, so it really isn't much help,"
she sighes.
"Have any of you heard of Sir Rufus or Nulwid?"
she asks, drawing blank looks from everyone. A dead end?
Rainey
ponders the names.
"Rufus sounds human. Is Nulwid an Elven name? Goblin? Sounds foreign, at least..."
he pontificates.
"Maybe, if Nulwid's still around, Sir Rufus, or his ... well, his progeny, might appreciate someone finding him."
Later, while
Tippin
gleefully counts the coins,
AdaRue
grabs a sample of one and inspects the stamping on them. The coin -- a silver penny -- bears the mark of having been minted in Tashal.
Attachment: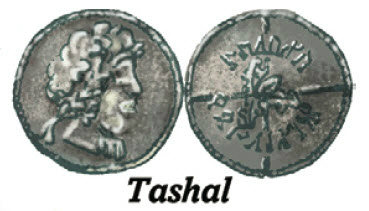 Tashal.jpg [ 34.97 KiB | Viewed 159 times ]
Keebler
, the most familiar with local geography, perks up. While everyone knows that you've all grown up in the Kingdom of Kaldor, the elf explains that Tashal, which is in the kingdom of Kaldor, is the second largest city in the region.
"It's southeast,"
he shares, before taking four coins -- three silver and one gold -- and begins placing them on the ground in a diagonal line.
Drawing from his memory of having seen a map at some point during his schooling.
"Tashal --"
he starts, laying down the gold coin,
"-- is here. Next is Querina,"
he continues, laying the first silver penny down just above and to the right of the gold coin marking Tashal. Then two more silver pennies, continuing the diagonal line, indicating that they represent Roganter, where they were heading, and finally Avocar.
"Where we can never return,"
he adds with a hint of frustration, recalling their surprise exile a couple days prior, which seems so much longer ago with all that has happened of late.
Code:
Avocar
Roganter
Querina
Tashal

Tippin
finishes his counting and cheerfully announces that the chest contains
6,538 silver
coins;
291 gold
; and
64 copper
.
"Plus those four,"
the halfling adds, pointing to
Keebler's
map.
---

I'll leave this thread unlocked for a bit longer, in case there is any reaction or follow-up necessary to the above. Otherwise, my next update should be in a new thread for day three.

Speaking of day three, I have already updated the "signature" in this update, which shows how everyone will be fully healed except for Junius, who will still have a single hit point of damage, but those will not be official until we officially turn the page on day two.

Also, I will still need the memorized spell for AdaRue.


Actions?
---
Possessions to Divide
---
Date
: 22 Februarius, Year 7102
Time
: 09:09 (Sunrise: 06:23, Sunset: 18:01)
Temp
: 53F (62F topside)
Conditions
:
Light Sources
:
Known Conditions/Spells in Effect
:
Character Status
Mila | MU: 1 | Mv: 120/40 | THAC0: 19 | AC: 9 | HP: 5 | Armor: Unarmored | Weapons: Dagger | Spells: 1st: 1 (Shield)
Keebler| : Elf: 1 | Mv: 90/30 | THAC0: 19 | AC: 7/6 | HP: 6 | Armor: Std Leather, Shield | Weapons: Longsword, Longbow (20) | Spells: 1st: 1 (Sleep)
Tippin | Halfling: 1 | Mv: 90/30 | THAC0: 19 | AC: 5/4/3 | HP: 4 | Armor: Hobgoblin Chain, Shield, Dex -1 | Weapons: Short sword, Shortbow (20)
Junius | Dwarf: 1 | Mv: 90/30 | THAC0: 19 | AC: 8/7/6 | HP: 10-8 = 2+4 = 6-4 = 2+3 = 5+2 = 7+2 =

9

| Armor: Leather, Shield, Dex -1 | Weapons: Scimitar, Sling (10), Shortbow (20)
AdaRue | Cleric: 1 | Mv: 60/20 | THAC0: 19 | AC: 7/6 | HP: 5 | Armor: Std Leather, Goblin Shield | Weapons: Staff | Spells: 1st: 1 (TBD; else: CLW)
Canun | Cleric: 1 | Mv: 60/20 | THAC0: 19 | AC: 4/3 | HP: 4 | Armor: Banded, Shield | Weapons: Mace, Sling | Spells: 1st: 1 (Light)
Rainey | MU: 1 | Mv: 90" | THAC0: 19 | AC: 10 | HP: 3 | Armor: Unarmored | Weapons: Dagger | Spells: 1st 1 (Sleep)

Marching Orders
Scout:
5-foot:

Junius
Tippin
Keebler
AdaRue
Mila
Rainey
Canun


10-foot:

Junius
Tippin & Keebler
AdaRue & Mila
Rainey & Canun
Rolls