The party enters Elizabeth Bays Town Hall and are escorted to Angelas office.
Cassavir, Elizabeth Bays general, meets you at the door with no more than a nod.
The room is richly decorated, but a table to the right of Angelas desk catches your attention as it is stacked with various gold ornaments, statuary, and relics.
Angela is seated at her desk and asks for your papers without looking up from her map and scroll.
One by one you are registered, she hands your papers back and says
"Please endeavor not to lose these."
She organizes her desk a bit then looks up.
"This is where we are. "
she says pointing to her map, a small circle entitled Elizabeth Bay on the southern end of the map, near the ocean.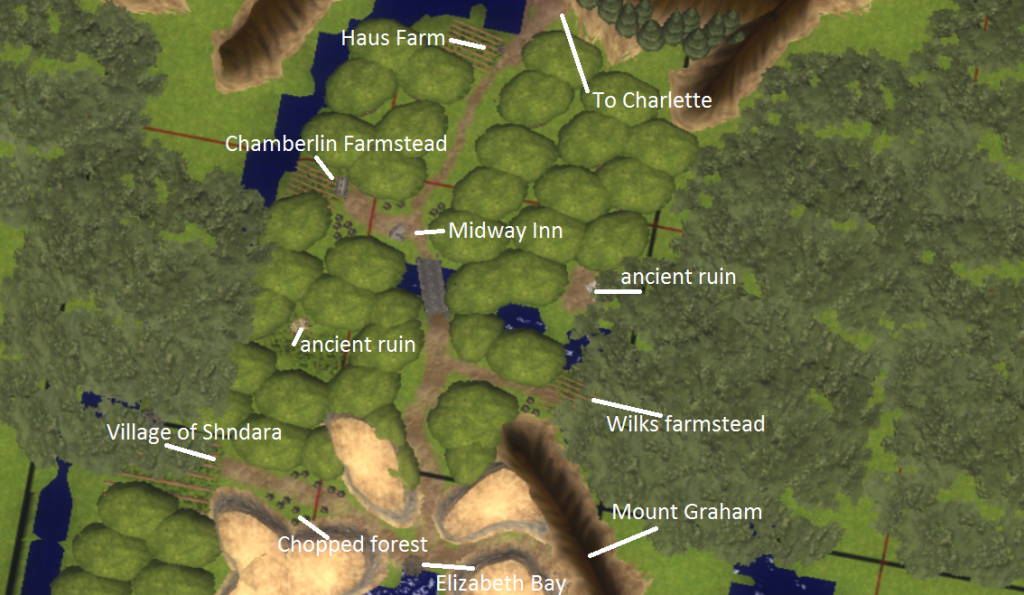 Her finger traces an obvious dirt road to the north until she stops at the drawing of a building, just past a bridge.
"This is a fortified and protected building known as the Midway Inn. I have a trusted officer here named Orilus Penstack. You may report to him as you would me, at any time. Further north,"
she says pointing her finger along the road again,
"Is the bordertown of Charlotte. My officer here is Seren Filsworth. You may also report to him. Either of these have authority to judge your productivity and pay your salary."
Her finger backtracks down the road to the Midway Inn and then to the east to a marking titled "Ancient Ruin"
"This,"
she continues ,
"Is where Varrick tells me is a previously unexplored ruin. This is fairly close to the inn. Perhaps a 2 day journey by the reports of my scouts, so I'm uncertain how it was missed on previous assignments, but, as I said, my scouts have verified. "
She stands and paces a bit.
"Varrick also informed me that it is over run by some form of large insects. Enough to cause him an his previously assigned party to flee. You are advised caution. I also want a 10 mile radius around this ruin re-mapped, as it obviously wasn't properly done 6 months ago.
She sits back down at her desk.
"I'm assuming this should take roughly 2 months, including clearing the ruin, but as always, as long as you are productive there is no real time limit. Coincidentally there is a small armed trade convoy heading north to Charlotte momentarily. It will escort you as far as the Midway Inn. You will head east from there. Are we understood? Any questions?"