As promised, the crew and passengers are ferried to the main land docks.
You watch as those around you adapt to walking on solid ground for the first time in a couple of weeks.
A group of guards segregate the crew from the passengers and check the passengers contractual paperwork, telling them to go and stand before the table on the brick, right off the docks.
2 guards, an obvious knight in shining plate, a noble looking woman, an an officer of the militia gather before the table.
The guards open a chest and pile coins on the table and assume positions on either side.
The noble woman produces a scroll and unrolls it on the table.
The officer steps forward and calls for silence.
"I am Captain Brelaina."
the officer begins.
"I am Lord Byrons eyes and arm in Elizabeth Bay. I run the militia, assign patrols, manage the welfare of this town. To my left is my advisor, Angela. She is responsible for all goods coming into the city, placing craftsmen in housing, delegating the collection of taxes, paying for contracted labor. She will be the one most of you will answer to if you wish to collect your salary. "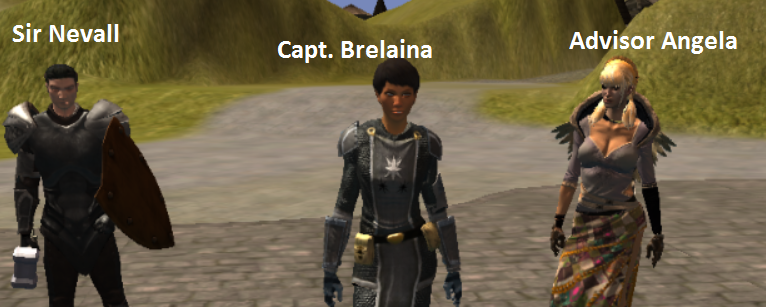 "To my right is Sir Nevall. He is responsible for seeing my orders to the militia carried out, schedules patrols, maintains civility within these walls, and hands out punishments. He will address you now."
The knight steps forward and in a heavy burly voice announces:
"The laws of Lashingport are observed in Elizabeth Bay. Punishment for breaking those laws is much more extreme here. Theft in any form will leave you a right hand short. A second attempt will leave you a left hand short. Insighting any form of violent gathering will have your tongue removed. Providing false evidence against another will have your tongue removed. Price jacking is illegal here. What a blade cost in Lashingport, so shall it cost in Elizabeth Bay. Knowing breaking this law will have a fine of 100 silver. Drunken rowdiness will land you a 100 silver fine. Physical violence will land both or any parties a 100 silver fine. Rape will have more than your hand removed. Smuggling is the same as theft here. Murder will have you swimming in the bay with arms and legs tied. Most other crimes against morality will provide you with a 100 silver fine. Anyone not able to pay fines will have all belongings sold and spend 2 months in hard labor per 50 silver owed."
He sighs and looks at each of those gathered.
"Look. Honestly, compared to the population here, there are very few punishments given out anymore. A simple rule to live by: Don't do anything to others you don't want done to you, and, a piece of advice...don't get overly drunk. Follow these and you will fit right in."
He steps back.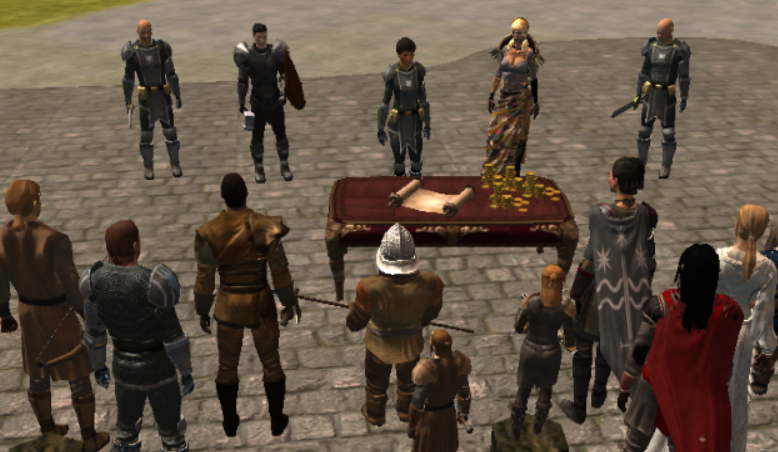 Captain Brelaina steps forward again.
"Okay. On to the more pleasant news. You who have contracts from lord Byron will receive your first months salary, right now. 100 silver pieces. You will have two days to rest from your travel before being required to check in for assignment. Yes. You will have assignments and not just wander around at your will. You may use this time and coin in any way you see fit, I am not your mother, but I would recommend purchasing supplies you will need to survive in the wilderness for the next month. If you are not productive when you check in with Angela, you will not be paid. You need not check in here in Elizabeth Bay every month. There is another settlement 2 weeks travel to the north where you may also check in. You need not check in every month.
Take as long as each assignment requires, as long as you are productive. If you are not productive, you are useless to Lord Byron. In Elizabeth Bay you will find most goods and services you would find in any city. Even more in many cases. Outside these walls are lawless in many cases. Don't expect hospitality from strangers in the wild. Don't expect the road to be empty between one place to the next. I promise, when you follow your assignments, you will be exploring new territories. These will have unpredictable and unknown creatures living within them. You are to map and to clear these lands to secure the safety of others. Frankly, I've heard tell of many explorers bringing back enough treasure as to no longer care for their salary. If you survive long enough to see such good fortune, I would recommend keeping it quiet.
Lady Angela can be found in the town hall between sun up and sun down. You may claim your assignments whenever you desire. If there are no questions, I will hand out your first months salary."