The gory mess above and below decks is cleaned off and pushed overboard.
Topside, the first mate pours oil on the wreck and, with the help of another sailor, pushes it off with long harpoons. Once your ship sails ahead a bit a flaming arrow is shot igniting the wreck. Many look on as it Burns, even a smoking dwarf.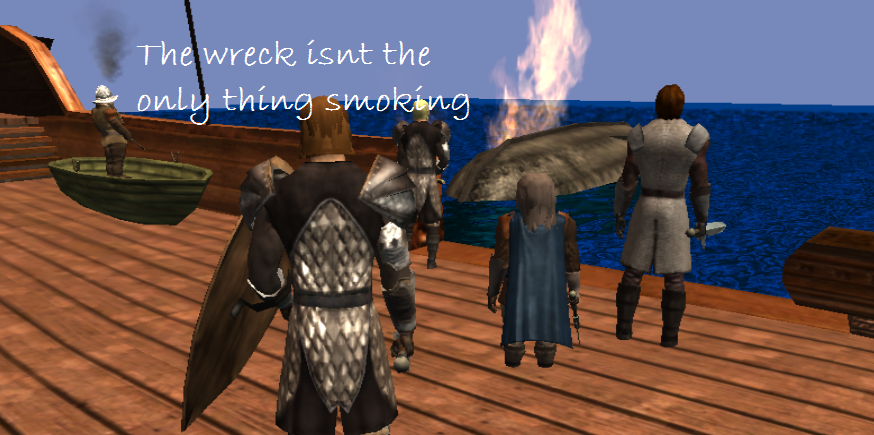 The captain calls for the passenger's involved in the brawl and leads them below decks where he grabs Sand, the merchant, and leads you down a rope ladder into the cargo bay.
"Lords but I appreciate yer efforts in saving me ship."
The captain says as you go.
"You're a good bunch. Not like them lazy logs I usually haul to Elizabeth Bay."
"Excuse me sir,"
says Sand.
"But I wasn't involved in the fight, why am I..."
"You, my good man."
interrupts the captain,
"Are gonna help me reward your saviors. "
He uses his knife to pry open one of the many crates.
"Captain! "
complains Sand but is again interrupted.
"You see,"
says the salty sailor,
"Old Sand here is a merchant in...more exotic items. Ain't that so?"
he raises a hand to stop Sands answer.
"He hires folk ta go grave robbin fer magical trinkets and Nik-Naks and has saved up a large shipment hoping ta triple his prices in Elizabeth Bay, or the other settlements, more likely. "
"Now hold on!"
says Sand.
" I'm an honest man. It just so happens there is a greater demand there. And If you think I'm paying these...people for doing their job.."
"Ah, but it ain't their job."
says the captain.
"They're passengers, as you well know. It was your GUARDS job to protect your precious cargo. I don't think them greenbacks even scored a hit. T'was these passengers did all the heavy lifting and you WILL thank them. Savvy?"
Sand looks back and forth between the captain, his crates, and the characters before breathing a heavy sigh and opening another crate.
"The captain was right. I do have a large haul this time. Each of you may pick one item. ONE!"
Sand says pointedly to the captain who merely smiles.
Sand continues
"There's quite a bit. "
he says pulling a rolled parchment from the crate.
"I've gotten it all categorized so it would be easier If each of you told me what type of item you might prefer?"