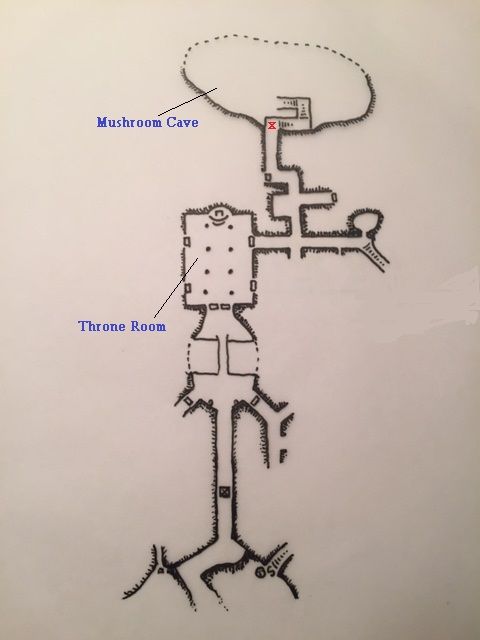 Now the party moves swiftly through the corridor.
Har
, the dwarf, leads the way. Beside him are the two clerics;
Brother Dumphey
to his left and
Brother Huxley
to his right, their torches held high, sputter and smoke. The rest of the adventurers --
Coat of Nine-Hides
, the waifish beastmaster;
Ilthuin
, the elf;
Gebhart
, the medium;
Boo
, the gnome-- follow behind. And bringing up the rear, lugging a 10-foot pole like it was no more heavier than a gentleman's cane, is
Tun
, the ogre-kin.
They follow the route showed to them earlier by their kobold escort and in nowise divert from their path. And in minutes they arrive at the threshold of the mushroom cave (
X
).
They stand at the top of a set of stairs that descend into an enormous cavern. The ceiling of the cavern is hidden in darkness, too high to be seen. Likewise, the northern wall of the cavern is too far off and indiscernible. Just beyond the stairs, below them in the darkness of the cavern, the party can just barely see odd, round shapes looming in the shadows. As the adventurers inch their way carefully to the edge of the stairs, they get a better look at the 'odd, round shapes' and realize that they are actually the tops of giant mushrooms!
Actions?