Haroushin begins telling the party the following story
"In the distant past, when Fate passed her knowledge to the Loregiver, Al-Anwahr was a rich and proud city ruled by King Azaltin, an intelligent man well versed in poetry, astrology, and the ways of magic. As the Loregiver wandered Zakhara, teaching the laws of the divine to man and genie alike, she is said to have stopped in Al-Anwahr and been a guest of Azaltin for 11 days. Azaltin honored his guest daily with lavish celebrations and exquisite gifts of silks, gold, and perfumes. After each night of entertainment, the king would ask his guest the same question: "How can a man live forever?" The Loregiver warned Azaltin about the danger of such knowledge, but in the end could hardly insult her gracious host by refusing to answer. Each night she told the king about the obstacles that prevent man from achieving immortality. Azaltin's scribes labored furiously to capture the Loregiver's parables and cryptic riddles, which were set down in a legendary scroll titled The Eleven Baneful Gates. According to legend, the Loregiver departed Al-Anwahr, leaving the equivocal scroll in Azaltin's care. Azaltin pondered the scroll for a decade, ignoring his people while trying to unravel its secret. After months of fasting and meditation, he abandoned the kingdom to his brother Amakim and left to ponder the scroll in the solitude of the wilderness. Ancient legends say he returned a dozen years later, an undead creature of hideous appearance, to reclaim his kingdom. Before long, Amakim led a revolt to topple his monstrous brother. Some members of court remained loyal to their
undead king, however, and a bloody battle ensued throughout the city. Ultimately, Amakim's forces triumphed, but when they reached the king's palace, they found that Azaltin had vanished. Amakim and his forces departed Al-Anwahr and eventually founded the city of In'aash. Centuries past, the city was renamed Muluk, while Al-Anwahr and Azaltin passed into folklore."
Haroushin
gives the group a minute to take in the information of the story then continues on
"What I ask of you is to go to the ruins of Al-Anwahr, which is located in the Haunted Lands. Recently, a clay tablet bearing the seal of Al-Anwahr was uncovered by nomads and sold for a princely sum in Muluk. I purchased this tablet and sent a large expedition to excavate the site and search for The Eleven Baneful Gates. No news was heard from them for months, and soon divinations revealed that they were all slain at the ruins. Through my divinatory magic and astronomical calculations, I have determined that the you are currently the group of people most likely to succeed in discovering the fate of the sacred scroll. As a priest of Zann, I am devoted to the acquisition of knowledge and directs historical research in this mosque's libraries. This why when one of my acolytes told me you came here I had them send you in to see me. This is also why I was more than happy to resurrect your friend for no payment. In addition I am going to pay you 2,000 dinars (gold pieces) to equip yourselves for this journey. Whatever remains keep among yourselves. If you are able to recover the sacred scroll I will pay you 10,000 dinars upon bringing it back to me. If you are able to uncover any other writings I will reward you additionally for each writing you are able to recover and bring to me for the mosque of Zann's libraries. I do have one condition however, I am going to ask that you take someone with you, he will be my representative."
the elder priest turns towards the door and a man walks through the door.
"This is Ameer. Ameer you will be accompanying these fine folks to the ruins of Al-Anwahr."
Not waiting for greetings the elder priest of Zann pulls a cord and an acolyte enters his office holding a rolled up parchment that he then hands to
Haroushin
then bows and departs the office.
Haroushin
then continues on
"I am giving you this map of the Burning Lands so that it can better guide you to the ruins of Al-Anwahr."
he clears a place on his desk and opens the map up turning it so that you can get a good look at the map. He places heavy glass half spheres on the four corners to hold the map down flat. He points to where the ruins are shown on the map
"This is your destination. Some the ruins will have things written in Chun, Chun, an ancient language used in Muluk's former capitol. That is why I am sending my representative Ameer with you. He can read the Chun language."
taking a moment to catch his breath again the priest once more continues on
"The journey involves crossing the Furrowed Mountains and traveling for weeks through the Haunted Lands. So you will need to prepare for such a long journey. If need be I would suggest you travel from Muluk to Talv to resupply before heading onwards to the ruins of Al-Anwahr."
he then reaches into a drawer and pulls out another map to give to the group.
"Here is another map that will be useful to you."
Burning Lands Map:
just ignore where it says Card 3 on this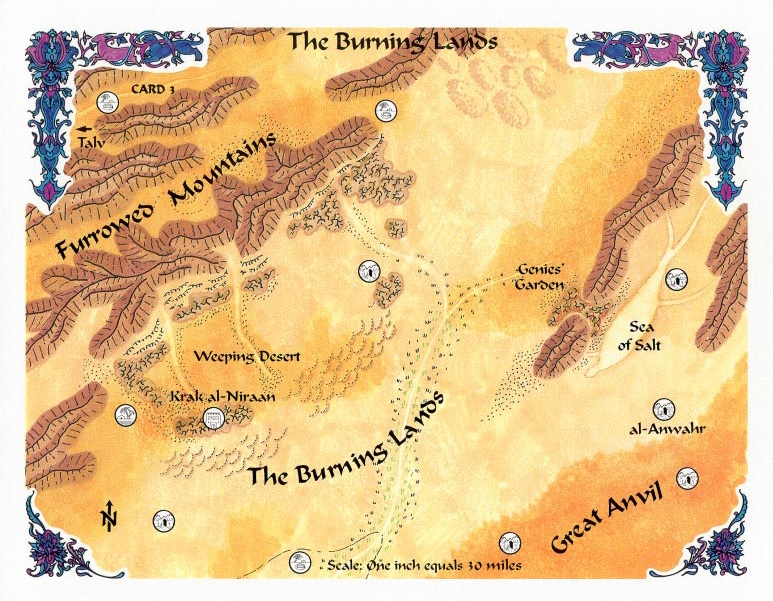 Map: Area from Muluk to Talv
just ignore where it says Card 1 on this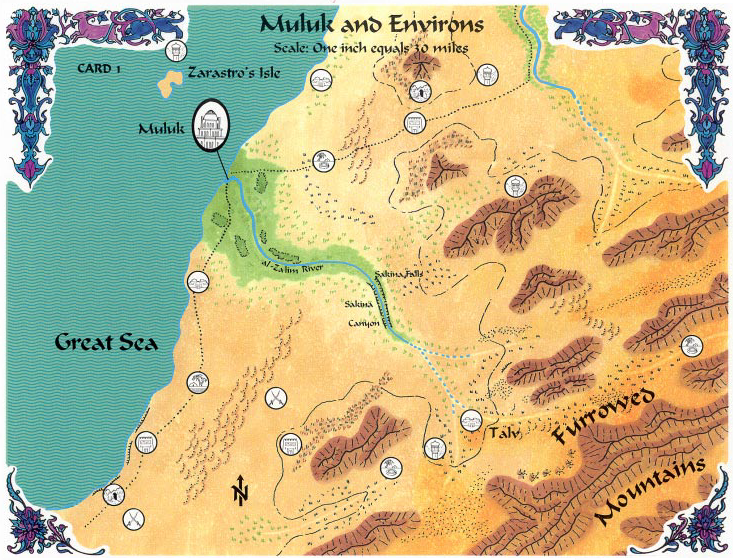 After allowing the group time to study the two maps
Haroushin
removes his weights from the maps rolls them up and puts them in each in a map case then places them on his desk to the group to grab.
Whomever is the map holder add these to your character sheet please.
Haroushin
then places a small wooden chest on the desk as well opening it to show that it contains the 2,000 dinars (gp) as promised.
"I should also inform you of the Immortal King. The Immortal King Azaltin now waits in the ruins of his former city, hoping that the truth about its history will at last be rediscovered. Azaltin was born 968 years ago into the ruling family of Al-Anwahr. The city now lies in forgotten ruins at the heart of the Haunted Lands, but Azaltin lives on, cursed with immortality. When Azaltin was a naive young king nine centuries ago, the Loregiver visited Azaltin. Abusing his authority as her host, Azaltin convinced her to reveal the secret of immortality against her will. Against her strenuous objections, Azaltin used the forbidden knowledge, justifying his naive desire for immortality with the excuse that it would make him a better king. Azaltin became immortal, but at the price of his physical appearance and respect in the eyes of his subjects, who regarded him as a monster. One of Azaltin's advisors, a treacherous vizier named Zeenab, saw an opportunity to seize power through Azaltin's weak-willed younger brother, Amakim. Zeenab persuaded Amakim to lead a revolt against his older brother and ultimately triumphed over Azaltin's loyal but disorganized forces. Azaltin watched in horror as his supporters were put to the sword, his beloved city sacked and ruined, and the survivors, led by Amakim, departed to the northern coast to found Muluk. He witnessed the ruin of his own kingdom, and watched the fall of Nog and Kadar. These ancient tragedies, rather than embittering the immortal king, have led Azaltin to respect the power and wisdom of the Loregiver and her Laws. For centuries, Azaltin wandered Zakhara perfecting his sorcery of wind and sand. Like a grandfather, he has watched the growth of the Enlightened cities: Huzuz and Qudra, the Cities of the Pearl, and the Pantheon Cities. He has visited and explored them all, at least that is how it is written and told."
taking a pause for effect and to catch his breath before saying one last thing to the party.
"Bid you a safe journey. You should make sure you have camels or some such steed for this journey for if by foot you will take significantly longer time to get to Talv and the ruins."
he waits for any further comments or questions of the group before he will get up and lead everyone out of the mosque.
Actions?