Round 1

Junius
takes a few quick steps back and fires an arrow at the oncoming goblin guard, which bounces harmlessly off its shield.
Horatio, Keebler
and
Dimly
also loose arrows at close range but find their arrows missing their marks and sailing harmlessly overhead.
AdaRue
weaves her way though those in front of her and rushes forward to stand with
Junius
, not quite able to close the entire distance in her new, heavy armor.
Rainey
and
Canun
watch nervously from the back, readying their weapons and watching to make sure nothing unexpected emerges from the pasage off to the left, with the door. Nothing does.
The goblin guard, already at the doorway, leaps out at
Junius
, looking to cleave the heavily armored dwarf with its goblin blade, but its attempt is wild.
Attachment: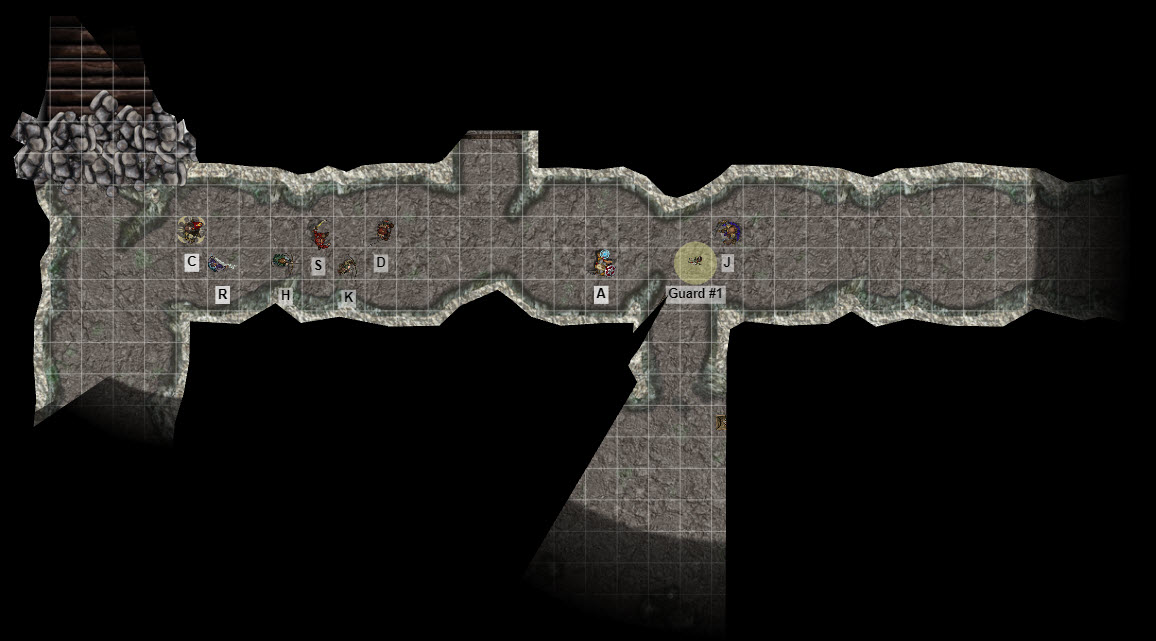 E02R01.jpg [ 103.54 KiB | Viewed 57 times ]
Inside the chamber, the other goblins scurry out of view and, at least temporarily fall silent.
---



Actions?
---
Brighton Area Map
---
Date
: 1 Martius, Year 7102
Time
: 10:46 (Sunrise: 06:50, Sunset: 18:35)
Temp
: 58F
Conditions
:
Light Sources
:
Known Conditions/Spells in Effect
:
Character Status
Junius | Dwarf: 1 | Mv: 90/30 | THAC0: 19 | AC: 4/3/2 | HP: 10 | Armor: Banded, Shield, Dex -1 | Weapons: Scimitar, Sling (10), Shortbow (25)

[5]


Sacro | Elf: 1 | Mv: 90/30 | THAC0: 19 | AC: 5/5 | HP: 4 | Armor: Banded, Dex -1 | Weapons: Longsword, Longbow (17)

[5]

| Spells: 1st: 1 (Sleep)
AdaRue | Cleric: 1 | Mv: 60/20 | THAC0: 19 | AC: 4/3 | HP: 5 | Armor: Banded, Shield | Weapons: Mace | Spells: 1st: 1,

0

(

Light

)
Canun | Cleric: 1 | Mv: 60/20 | THAC0: 19 | AC: 4/3 | HP: 4 | Armor: Banded, Shield | Weapons: Mace, Sling | Spells: 1st: 1 (Light)

Nelly | Mule: 2 hd | Mv: 120/40 | THAC0: 18 | AC: 7 | HP: 9 | #Attacks: 1 (kick or bite) | Damage: 1d4 or 1d3 | Morale: 8 | Carrying: 0 pounds | Max Load: 400 pounds

Rainey | MU: 1 | Mv: 120" | THAC0: 19 | AC: 10 | HP: 3 | Armor: Unarmored | Weapons: Dagger | Spells: 1st: 1,

0

(

Charm Person

)
Keebler | Elf: 1 | Mv: 90/30 | THAC0: 19 | AC: 4/3 | HP: 6 | Armor: Banded, Shield | Weapons: Longsword, Longbow (25)

[5]

| Spells: 1st: 1,

0

(

Sleep

)
Horatio | Thief: 1 | Mv: 90/30 | THAC0: 19 | AC: 8/6 | HP: 8-5 =

3

| Armor: Leather | Weapons: Longsword, Longbow (24)

[5]


Dimly | Dwarf: 1 | Mv: 60/20 | THAC0: 19 | AC: 5/4 | HP: 8-3 = 5-3 = 2-1 = 1+2 =

3

| Armor: Scale, Shield | Weapons: Longsword, Dagger, Shortbow (28)

[5]



Marching Orders
Scout
:
5-foot
:
Junius
Dimly
Keebler
Sacro
Horatio
AdaRue
Rainey
Canun
10-foot
:
Junius & Dimly
Keebler & Sacro
AdaRue & Horatio
Rainey & Canun
Rolls