Stinky Room
"Ughk. Mold,"
sighs
Keebler
as
Junius
relays his findings. The elf proceeds to disparage the goblins for their failure to follow the most basic water channeling and desiccation methods.
"This mold may be deadly, ya know,"
Rainey
observes while adding that it would be helpful to have somebody to send in there... like a prisoner.
"That would be cruel,"
chides
Horatio
; the group is unsure whether the comment was sarcastic or serious.
"I wonder..."
the thief says, before stringing an arrow and targeting one of the clumps of mold on the floor.
From the vantage point in the hallway, the mold appears to be everywhere, so targeting it is not difficult. While not exactly where he intended it,
Horatio's
arrow pierces into one of the clumps festering on the floor, ricochets slightly after striking the solid stone floor, and flies out the opposite side without any effect.
Canun
sticks a rag in one of his flasks of oil, lights it, and with a near-perfect toss, starts a small blaze in a far section in corner. The flaming mycotoxins release a strong, pungent odor and a contained -- for now -- area of smoke, but the burning mold produces no unexpected reaction.
AdaRue
wraps a piece of scarlet flannel around her nose and enters the room, lantern in hand. The light from the midwife's lantern reveals what appears to be a path of sorts leading deeper into the chamber, but her light currently does not reach the end of this new area.
Attachment: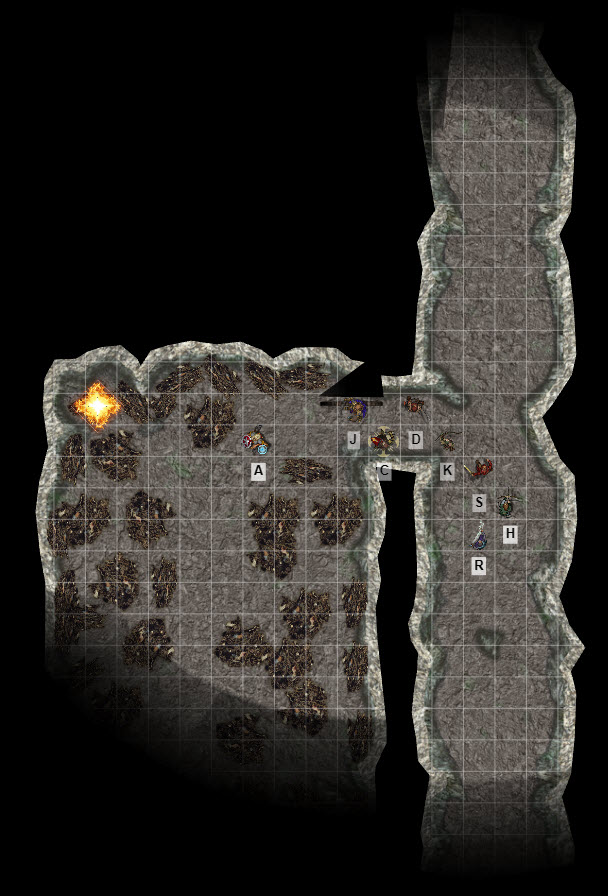 Stinky Room.jpg [ 116.06 KiB | Viewed 121 times ]
---


Actions?
---
Brighton Area Map
---
Date
: 1 Martius, Year 7102
Time
: 10:20 (Sunrise: 06:50, Sunset: 18:35)
Temp
: 58F
Conditions
:
Light Sources
:
Known Conditions/Spells in Effect
:
Character Status
Junius | Dwarf: 1 | Mv: 90/30 | THAC0: 19 | AC: 4/3/2 | HP: 10 | Armor: Banded, Shield, Dex -1 | Weapons: Scimitar, Sling (10), Shortbow (26)

[5]


Sacro | Elf: 1 | Mv: 90/30 | THAC0: 19 | AC: 5/5 | HP: 4 | Armor: Banded, Dex -1 | Weapons: Longsword, Longbow (17)

[5]

| Spells: 1st: 1 (Sleep)
AdaRue | Cleric: 1 | Mv: 60/20 | THAC0: 19 | AC: 4/3 | HP: 5 | Armor: Banded, Shield | Weapons: Mace | Spells: 1st: 1,

0

(

Light

)
Canun | Cleric: 1 | Mv: 60/20 | THAC0: 19 | AC: 4/3 | HP: 4 | Armor: Banded, Shield | Weapons: Mace, Sling | Spells: 1st: 1 (Light)

Nelly | Mule: 2 hd | Mv: 120/40 | THAC0: 18 | AC: 7 | HP: 9 | #Attacks: 1 (kick or bite) | Damage: 1d4 or 1d3 | Morale: 8 | Carrying: 0 pounds | Max Load: 400 pounds

Rainey | MU: 1 | Mv: 120" | THAC0: 19 | AC: 10 | HP: 3 | Armor: Unarmored | Weapons: Dagger | Spells: 1st: 1,

0

(

Charm Person

)
Keebler | Elf: 1 | Mv: 90/30 | THAC0: 19 | AC: 4/3 | HP: 6 | Armor: Banded, Shield | Weapons: Longsword, Longbow (26)

[5]

| Spells: 1st: 1,

0

(

Sleep

)
Horatio | Thief: 1 | Mv: 90/30 | THAC0: 19 | AC: 8/6 | HP: 8 | Armor: Leather | Weapons: Longsword, Longbow (25)

[5]


Dimly | Dwarf: 1 | Mv: 60/20 | THAC0: 19 | AC: 5/4 | HP: 8-3 = 5-3 = 2-1 = 1+2 =

3

| Armor: Scale, Shield | Weapons: Longsword, Dagger, Shortbow (29)

[5]



Marching Orders
Scout
:
5-foot
:
Junius
Dimly
Keebler
Sacro
Horatio
AdaRue
Rainey
Canun
10-foot
:
Junius & Dimly
Keebler & Sacro
AdaRue & Horatio
Rainey & Canun
Rolls