Round 2
The beetles continue to act with impressive quickness, and attack with ferocious intentions. Powerful mandibles crunch down and literally squeeze the life from both
Hastin
(-8)
and
Tippin
(-8)
, whose pained screams fill the passageway!
Next to the now fallen fighting man,
Junius
brushes away the beetle that lunges at him with his shield, then severs an antenna of his adversary with another successful slash from his trusted scimitar – but still fails to introduce his giant bug to death.
Across the passage, the fourth beetle scampers past the fallen halfling and targets
Keebler
. Witnessing the deadly vermin approaching, the elf begins to switch from his bow to his sword, knocking the pest away with his ranged weapon in the process.
AdaRue
, fearing the oncoming creature, quickly slings a stone at it, and grazes it with a glancing blow.
Canun
, having the same reaction as
AdaRue
, casts
'Light'
in the creatures eyes.
Keebler
slashes down with his sharpened blade on the wounded, blinded beetle; killing it by severing one of its legs and sending its thick blood pooling onto the floor in front of them.
Attachment: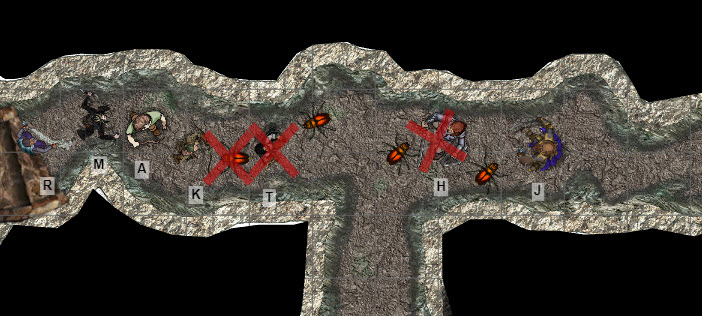 E02R02.jpg [ 80.77 KiB | Viewed 107 times ]
Three beetles remain; one heavily wounded.
---
Alethan and Zhym, apologies! Back-to-back nasty rolls.




Actions?
---
Possessions Left Behind
---
Date
: 29 Februarius, Year 7102
Time
: 10:28 (Sunrise: 06:37, Sunset: 18:22)
Temp
: 79F
Conditions
:
Light Sources
:
Known Conditions/Spells in Effect
:
Character Status
Mila | MU: 1 | Mv: 120/40 | THAC0: 19 | AC: 9 | HP: 5 | Armor: Unarmored | Weapons: Dagger | Spells: 1st: 1 (Shield)
Keebler| : Elf: 1 | Mv: 90/30 | THAC0: 19 | AC: 4/3 | HP: 6 | Armor: Banded, Shield | Weapons: Longsword, Longbow (17) | Spells: 1st: 1 (Sleep)
Tippin | Halfling: 1 | Mv: 90/30 | THAC0: 19 | AC: 4/3/2 | HP: 4-8 =

-4

| Armor: Banded Mail, Shield, Dex -1 | Weapons: Short sword, Shortbow (18)
Junius | Dwarf: 1 | Mv: 90/30 | THAC0: 19 | AC: 4/3/2 | HP: 10 | Armor: Banded Mail, Shield, Dex -1 | Weapons: Scimitar, Sling (10), Shortbow (18)
AdaRue | Cleric: 1 | Mv: 60/20 | THAC0: 19 | AC: 4/3 | HP: 5-3 =

2

| Armor: Banded Mail, Shield | Weapons: Mace, Staff | Spells: 1st: 1 (Light)
Canun | Cleric: 1 | Mv: 60/20 | THAC0: 19 | AC: 4/3 | HP: 4 | Armor: Banded, Shield | Weapons: Mace, Sling | Spells: 1st:

1

,

0

(Light)

Nelly | Mule: 2 hd | Mv: 120/40 | THAC0: 18 | AC: 7 | HP: 9 | #Attacks: 1 (kick or bite) | Damage: 1d4 or 1d3 | Morale: 8 | Carrying: 0 pounds | Max Load: 400 pounds

Rainey | MU: 1 | Mv: 120" | THAC0: 19 | AC: 10 | HP: 3 | Armor: Unarmored | Weapons: Dagger | Spells: 1st: 1,

0

(

Sleep

)
Hastin | Fighter: 1 | Mv: 60/20 | THAC0: 19 | AC: 4/3 | HP: 7-8 =

-1

| Armor: Splint Mail, Shield | Weapons: Long sword, Javelin (3)


Marching Orders
Scout:
5-foot:

Junius
Hastin
Tippin
Keebler
AdaRue
Mila
Rainey
Canun


10-foot:

Junius & Hastin
Tippin & Keebler
AdaRue & Mila
Rainey & Canun
Rolls