Zzzzz...Rainey
bravely steps forward and begins uttering some phrases in a strange arcane language. The giant rattler loosens its vice-like jaws from
AdaRue
, who shrieks
"Mother help me!"
as the horror and pain of the snake strike begins to register, and rears its head back, jaws open wide. The incantations of
Rainey's
'
sleep
' spell complete just in a nick of time, and the giant serpent fails to wrestle against its effects, collapsing solidly onto the jagged stairway, pinning
AdaRue
in the process! Instinctively, the cleric smashes her lantern down towards the large, slitted eyes of the snake that just released its grip on her, and the lone slight source the party had lit nearly flickers off; the few sparks remaining after impact barely illuminate the immediate area. The word
"Help!"
is the last sound that manages to escape the cleric's mouth before being nearly crushed.
Attachment: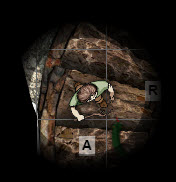 Light.jpg [ 8.54 KiB | Viewed 99 times ]
The snake, and
Miss AdaRue
, lie motionless.
---


Actions?
---
Possessions Left Behind
---
Date
: 29 Februarius, Year 7102
Time
: 10:07 (Sunrise: 06:37, Sunset: 18:22)
Temp
: 79F
Conditions
:
Light Sources
:
Known Conditions/Spells in Effect
:
Character Status
Mila | MU: 1 | Mv: 120/40 | THAC0: 19 | AC: 9 | HP: 5 | Armor: Unarmored | Weapons: Dagger | Spells: 1st: 1 (Shield)
Keebler| : Elf: 1 | Mv: 90/30 | THAC0: 19 | AC: 4/3 | HP: 6 | Armor: Banded, Shield | Weapons: Longsword, Longbow (17) | Spells: 1st: 1 (Sleep)
Tippin | Halfling: 1 | Mv: 90/30 | THAC0: 19 | AC: 4/3/2 | HP: 4 | Armor: Banded Mail, Shield, Dex -1 | Weapons: Short sword, Shortbow (18)
Junius | Dwarf: 1 | Mv: 90/30 | THAC0: 19 | AC: 4/3/2 | HP: 10 | Armor: Banded Mail, Shield, Dex -1 | Weapons: Scimitar, Sling (10), Shortbow (18)
AdaRue | Cleric: 1 | Mv: 60/20 | THAC0: 19 | AC: 4/3 | HP: 5-3 =

2

| Armor: Banded Mail, Shield | Weapons: Mace, Staff | Spells: 1st: 1 (Light)
Canun | Cleric: 1 | Mv: 60/20 | THAC0: 19 | AC: 4/3 | HP: 4 | Armor: Banded, Shield | Weapons: Mace, Sling | Spells: 1st: 1 (Light)

Nelly | Mule: 2 hd | Mv: 120/40 | THAC0: 18 | AC: 7 | HP: 9 | #Attacks: 1 (kick or bite) | Damage: 1d4 or 1d3 | Morale: 8 | Carrying: 0 pounds | Max Load: 400 pounds

Rainey | MU: 1 | Mv: 120" | THAC0: 19 | AC: 10 | HP: 3 | Armor: Unarmored | Weapons: Dagger | Spells: 1st: 1,

0

(Sleep)
Hastin | Fighter: 1 | Mv: 60/20 | THAC0: 19 | AC: 4/3 | HP: 7 | Armor: Splint Mail, Shield | Weapons: Long sword, Javelin (3)


Marching Orders
Scout:
5-foot:

Junius
Hastin
Tippin
Keebler
AdaRue
Mila
Rainey
Canun


10-foot:

Junius & Hastin
Tippin & Keebler
AdaRue & Mila
Rainey & Canun
Rolls