Round 6
Successful strikes from
Tippin
,
Hastin
,
Mila
, and
Junius
manage to eliminate the three remaining goblins before the small humanoids have an opportunity to deal any more harm to the party.
The threat now eliminated, the light sources are able to be spread around to illuminate the entire chamber. Their living area now in view, the group locates a total of six beds or bedrolls, a wooden table with six wooden chairs, a now empty weapons rack, and, in the smaller nock in the far northish corner, a small wooden chest painted all black.
Attachment: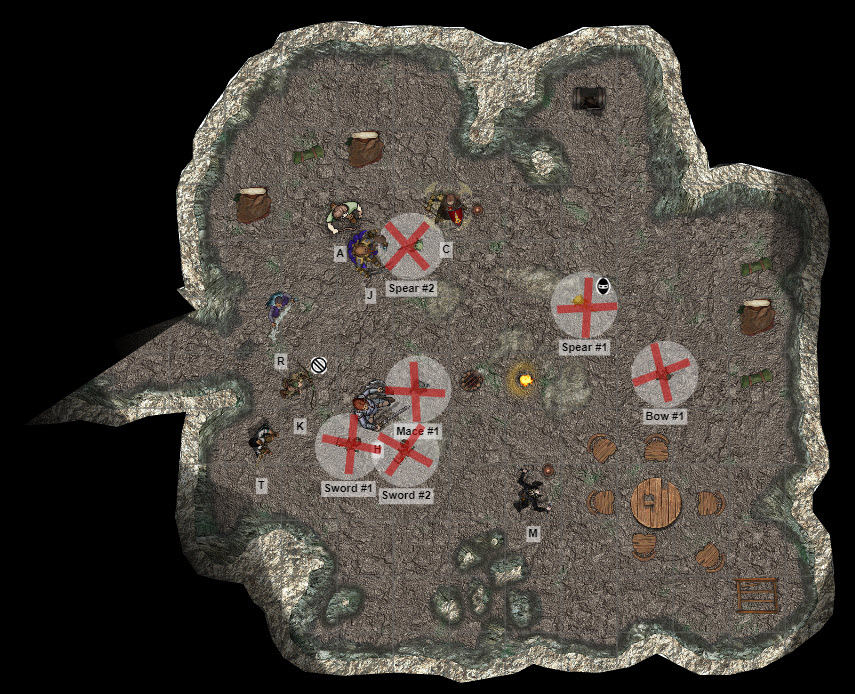 End.jpg [ 215.07 KiB | Viewed 108 times ]
Also, on the bodies of their fallen adversaries bodies, the group also produces 59 gold, 27 silver, and 12 copper pieces; plus the goblin weapons and armor, which consist of six sets of leather armor, two shields, seven spears, two swords, one bow with 8 arrows, and one mace.
Mila
is able to recover her dart, and
Canun
reports that he detects no sound coming from down the passage, so, for the moment, the group is able to rest in relative safety.
Actions?
---
Possessions Left Behind
---
Date
: 26 Februarius, Year 7102
Time
: 13:42 (Sunrise: 06:28, Sunset: 18:18)
Temp
: 64F (69F topside)
Conditions
:
Light Sources
:
Known Conditions/Spells in Effect
:
Character Status
Mila | MU: 1 | Mv: 120/40 | THAC0: 19 | AC: 9 | HP: 5 | Armor: Unarmored | Weapons: Dagger | Spells: 1st: 1,

0

(

Shield

)
Keebler| : Elf: 1 | Mv: 90/30 | THAC0: 19 | AC: 4/3 (2 vs ranged) | HP: 6-5 =

1

| Armor: Banded, Shield | Weapons: Longsword, Longbow (15) | Spells: 1st: 1,

0

(

Sleep

)
Tippin | Halfling: 1 | Mv: 90/30 | THAC0: 19 | AC: 4/3/2 | HP: 4 | Armor: Banded Mail, Shield, Dex -1 | Weapons: Short sword, Shortbow (14)
Junius | Dwarf: 1 | Mv: 90/30 | THAC0: 19 | AC: 4/3/2 | HP: 10-6 = 4-3 = 1-2 = -1+5 =

4

| Armor: Banded Mail, Shield, Dex -1 | Weapons: Scimitar, Sling (10), Shortbow (16)
AdaRue | Cleric: 1 | Mv: 60/20 | THAC0: 19 | AC: 4/3 | HP: 5 | Armor: Banded Mail, Shield | Weapons: Staff | Spells: 1st: 1,

0

(

Protection from Evil

)
Canun | Cleric: 1 | Mv: 60/20 | THAC0: 19 | AC: 4/3 | HP: 4 | Armor: Banded, Shield | Weapons: Mace, Sling | Spells: 1st: 1,

0

(

Light

)

Nelly | Mule: 2 hd | Mv: 120/40 | THAC0: 18 | AC: 7 | HP: 9 | #Attacks: 1 (kick or bite) | Damage: 1d4 or 1d3 | Morale: 8 | Carrying: 0 pounds | Max Load: 400 pounds

Rainey | MU: 1 | Mv: 120" | THAC0: 19 | AC: 10 | HP: 3 | Armor: Unarmored | Weapons: Dagger | Spells: 1st: 1 (Charm Person)
Hastin | Fighter: 1 | Mv: 60/20 | THAC0: 19 | AC: 4/3 | HP: 7-4 =

3

| Armor: Splint Mail, Shield | Weapons: Long sword, Javelin (3)



Marching Orders
Scout:
5-foot:

Junius
Hastin
Tippin
Keebler
AdaRue
Mila
Rainey
Canun


10-foot:

Junius & Hastin
Tippin & Keebler
AdaRue & Mila
Rainey & Canun
Rolls