Round 3
The goblins continue to act with a determined quickness. The spear-goblin facing
Junius
makes quick work of the dwarf, skewering him
(-2)
.
Junius
loses the grip on his sword as he collapses. The goblin archer, also targeting
Junius
, sends an arrow sailing harmlessly over the now downed form of the dwarven hero.
On the opposite side of the chamber,
Hastin
finds himself confronted by a trio of goblin pests -- two with swords, one with a mace. The fighting man manages to elude the strikes from two of his opponents, but feels the sting
(-4)
of a curved goblin blade that slips past his defenses.
AdaRue
, noticing Junius was in bad shape even before this latest blow, bravely steps forward and, at the last possible instant, casts a healing spell
(+5)
on her fallen dwarven companion.... who begins to stir back to life!
Hastin
, overcome with goblin attackers, lashes out at the sword-wielding goblin that struck him moments earlier... and flails wildly, allowing the goblin a reflexive counter-strike, which is equally unsuccessful.
Back near the entrance to the chamber,
Canun
steps forward and sends a sling stone sailing at the goblin he blinded moments earlier. The stone thuds against the back of the creatures skull, killing it!
Tippin
sends an arrow at the nearest goblin engaged with
Hastin
, and strikes it with precision with a fatal shot!
Keebler
, nearing death's door, quickly slides past
Canun
, retreating into the relative safety of the hallway.
Mila
, spying the elf's condition, and the wound inflicted by the goblin spear, casts her '
Shield
' spell on Keebler for if and when he re-enters the fray.
Attachment: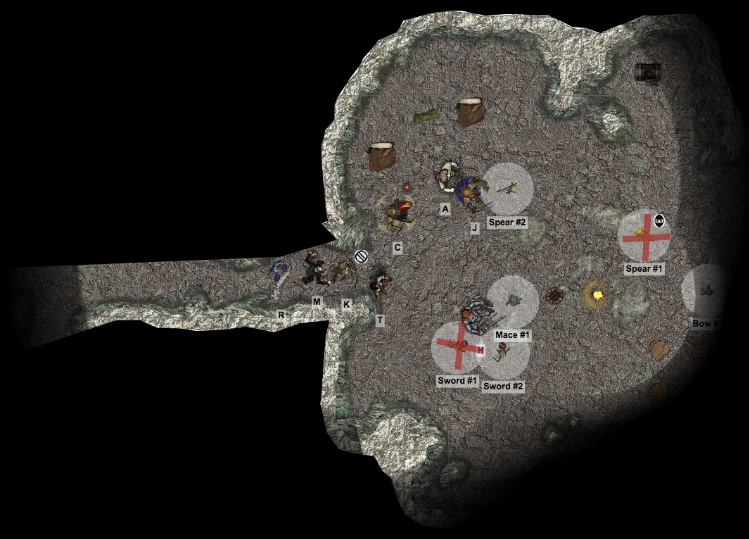 R03.jpg [ 142.52 KiB | Viewed 148 times ]
Actions?
---
Possessions Left Behind
---
Date
: 26 Februarius, Year 7102
Time
: 13:35 (Sunrise: 06:28, Sunset: 18:18)
Temp
: 64F (69F topside)
Conditions
:
Light Sources
:
Known Conditions/Spells in Effect
:
Character Status
Mila | MU: 1 | Mv: 120/40 | THAC0: 19 | AC: 9 | HP: 5 | Armor: Unarmored | Weapons: Dagger | Spells: 1st: 1,

0

(

Shield

)
Keebler| : Elf: 1 | Mv: 90/30 | THAC0: 19 | AC: 4/3 (2 vs ranged) | HP: 6-5 =

1

| Armor: Banded, Shield | Weapons: Longsword, Longbow (18) | Spells: 1st: 1,

0

(

Sleep

)
Tippin | Halfling: 1 | Mv: 90/30 | THAC0: 19 | AC: 4/3/2 | HP: 4 | Armor: Banded Mail, Shield, Dex -1 | Weapons: Short sword, Shortbow (16)
Junius | Dwarf: 1 | Mv: 90/30 | THAC0: 19 | AC: 4/3/2 | HP: 10-6 = 4-3 = 1-2 = -1+5 =

4

| Armor: Banded Mail, Shield, Dex -1 | Weapons: Scimitar, Sling (10), Shortbow (17)
AdaRue | Cleric: 1 | Mv: 60/20 | THAC0: 19 | AC: 4/3 | HP: 5 | Armor: Banded Mail, Shield | Weapons: Staff | Spells: 1st: 1,

0

(

Protection from Evil

)
Canun | Cleric: 1 | Mv: 60/20 | THAC0: 19 | AC: 4/3 | HP: 4 | Armor: Banded, Shield | Weapons: Mace, Sling | Spells: 1st: 1,

0

(

Light

)

Nelly | Mule: 2 hd | Mv: 120/40 | THAC0: 18 | AC: 7 | HP: 9 | #Attacks: 1 (kick or bite) | Damage: 1d4 or 1d3 | Morale: 8 | Carrying: 0 pounds | Max Load: 400 pounds

Rainey | MU: 1 | Mv: 120" | THAC0: 19 | AC: 10 | HP: 3 | Armor: Unarmored | Weapons: Dagger | Spells: 1st: 1 (Charm Person)
Hastin | Fighter: 1 | Mv: 60/20 | THAC0: 19 | AC: 4/3 | HP: 7-4 =

3

| Armor: Splint Mail, Shield | Weapons: Long sword, Javelin (3)



Marching Orders
Scout:
5-foot:

Junius
Hastin
Tippin
Keebler
AdaRue
Mila
Rainey
Canun


10-foot:

Junius & Hastin
Tippin & Keebler
AdaRue & Mila
Rainey & Canun
Rolls
R03: Initiative: Players: [1d6] = 4, Monsters: [1d6] = 5
R03: Spear #2 vs J (AC 2, 16+): [1d20] = 18, [1d6] = 2
R03: Sword #1 vs H (AC 3, 16+): [1d20] = 17, [1d6] = 4
R03: Sword #2 vs H (AC 4, 15+): [1d20] = 14, [1d6] = 1
R03: Mace #1 vs H (AC 3, 16+): [1d20] = 15, [1d6] = 2
R03: Sword #2 vs H (@1) (AC 4, 15+): [1d20] = 8, [1d6] = 1