Round 2
The goblins react quickly, and the first spear-goblin hurls its pointed stick at
Keebler
, striking the elf square in his chest
(-5)
, bringing the elf to within inches of his life! The second spear-goblin lowers the tip of its weapon and rushes at
Junius
, sticking the already wounded dwarf with an almost fatal blow
(-3)
! The goblin archer targets
AdaRue
and sends an arrow whizzing just past cleric, very narrowly missing as the cleric ducks to set down the lantern she had been carrying.
"For the Vale!"
Hastin
shouts as he draws his sword and rushes at the goblin with the mace... and is caught off-guard when a sword-wielding goblin joins the fray! The fighting man is able to deflect the mace and sword attacks targeting him, but his own attack is unsuccessful.
Junius
, fighting to remain conscious, quickly draws his sword and flails wildly at the spear-goblin challenging him.
Having set her lantern down,
AdaRue
twirls a stone and slings it at the spear-goblin currently not engaged with
Junius
or
Hastin
. Her aim is off.
Keebler
and
Tippin
send a volley of arrows flying, but are unable to connect with their intended targets.
Canun
steps forward just far enough to get a view of the fracas. He spies a goblin reaching for another spear and, praying to Hubbard, utters a quick prayer and casts
Light
into the creatures eyes. The success of the casting is confirmed as the goblin lets out a pained scream and spins to face the opposite direction, covering its eyes.
Rainey
and
Mila
remain in relative safety in the passage.
Attachment: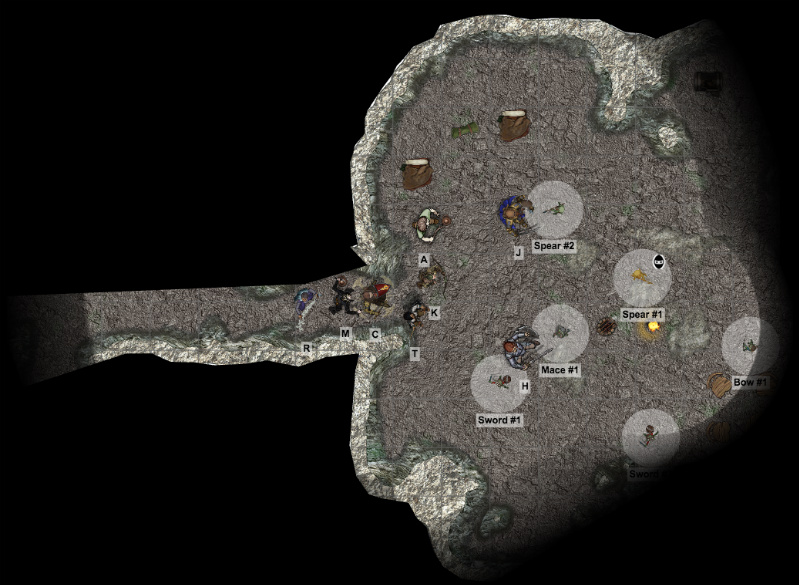 R02.jpg [ 160.1 KiB | Viewed 103 times ]
The goblin archer, and a second sword-wielding goblin come into view deeper into the chamber.
Actions?
---
Possessions Left Behind
---
Date
: 26 Februarius, Year 7102
Time
: 13:34 (Sunrise: 06:28, Sunset: 18:18)
Temp
: 64F (69F topside)
Conditions
:
Light Sources
:
Known Conditions/Spells in Effect
:
Canun's Light Spell: 120 Rounds

Character Status
Mila | MU: 1 | Mv: 120/40 | THAC0: 19 | AC: 9 | HP: 5 | Armor: Unarmored | Weapons: Dagger | Spells: 1st: 1 (Shield)
Keebler| : Elf: 1 | Mv: 90/30 | THAC0: 19 | AC: 4/3 | HP: 6-5 =

1

| Armor: Banded, Shield | Weapons: Longsword, Longbow (18) | Spells: 1st: 1,

0

(

Sleep

)
Tippin | Halfling: 1 | Mv: 90/30 | THAC0: 19 | AC: 4/3/2 | HP: 4 | Armor: Banded Mail, Shield, Dex -1 | Weapons: Short sword, Shortbow (17)
Junius | Dwarf: 1 | Mv: 90/30 | THAC0: 19 | AC: 4/3/2 | HP: 10-6 = 4-3 =

1

| Armor: Banded Mail, Shield, Dex -1 | Weapons: Scimitar, Sling (10), Shortbow (17)
AdaRue | Cleric: 1 | Mv: 60/20 | THAC0: 19 | AC: 4/3 | HP: 5 | Armor: Banded Mail, Shield | Weapons: Staff | Spells: 1st: 1 (Protection from Evil)
Canun | Cleric: 1 | Mv: 60/20 | THAC0: 19 | AC: 4/3 | HP: 4 | Armor: Banded, Shield | Weapons: Mace, Sling | Spells: 1st: 1,

0

(

Light

)

Nelly | Mule: 2 hd | Mv: 120/40 | THAC0: 18 | AC: 7 | HP: 9 | #Attacks: 1 (kick or bite) | Damage: 1d4 or 1d3 | Morale: 8 | Carrying: 0 pounds | Max Load: 400 pounds

Rainey | MU: 1 | Mv: 120" | THAC0: 19 | AC: 10 | HP: 3 | Armor: Unarmored | Weapons: Dagger | Spells: 1st: 1 (Charm Person)
Hastin | Fighter: 1 | Mv: 60/20 | THAC0: 19 | AC: 4/3 | HP: 7 | Armor: Splint Mail, Shield | Weapons: Long sword, Javelin (3)



Marching Orders
Scout:
5-foot:

Junius
Hastin
Tippin
Keebler
AdaRue
Mila
Rainey
Canun


10-foot:

Junius & Hastin
Tippin & Keebler
AdaRue & Mila
Rainey & Canun
Rolls
R02: Initiative: Players: [1d6] = 5, Monsters: [1d6] = 6
R02: Spear #2 vs J (AC 2, 16+): [1d20] = 19, [1d6] = 3
R02: Spear#1 vs K @ Short (AC 4, 15+): [1d20+1] = 16+1 = 17, [1d6] = 5
R02: Bow #1 vs: J (1-2), A (3-4), K (5-6): [1d6] = 3
R02: Bow #1 vs A @ Short (AC 3, 16+): [1d20+1] = 14+1 = 15, [1d6] = 3
R02: Mace #1 vs H (AC 3, 16+): [1d20] = 14, [1d6] = 5
R02: Sword #1 vs H (AC 3, 16+): [1d20] = 11, [1d6] = 6
R02: Junius v Spear #2 (AC 6, 13+): [1d20] = 6, [1d6] = 5
R02: Spear #1 save vs Spells (18+): [1d20] = 12