End of Conflict
The conflict over, the group members go about the individual tasks they believe most important.
Keebler
distributes the leftover goblin arrows amongst the party's archers, leaving himself with 17 total, while
Tippin
and
Junius
end up with 18 arrows each. The dwarf apologizes for leading the group into an ambush while finding himself stinging from his wounds now that his adrenaline from the battle begins to wane. After distributing the arrows, the more severely wounded
Keebler
nobly refrains from saying
'I told you so,'
and suggests that the group hole up before moving on.
Tippin
, after stowing his new arrows, shuts the door to the room and, when no one offers up any iron spikes from their personal possessions, does his best to wedge the door shut with one of the goblin spears. But first,
AdaRue
convinces the group to drag the goblin bodies from the chamber and back into the hallway they just entered from, near the stairs. Once the room has been cleared of corpses, the cleric returns and dresses
Keebler's
wounds with bandages and salves. She then sizes up the goblin mace and, finding it a suitable, single-handed weapon to use alongside her shield, the claims it.
The newcomer,
Hastin
, shakes his head at the dwarves apology.
"That wasn't an ambush,"
he starts.
"They just got to their weapons fast is all."

"Leaders lead, Junius. If we'd let them dig in, it would have been harder, I think."
Having said his piece on the subject, the fighting man walks over to the chest and checks it for a lock which doesn't exist. To be safe, he lifts the chest, which does not feel overly heavy, and carries it to the middle of the room. Then, positioning it so it will open away from everyone else, he reaches over the top of the chest and slowly opens its away from himself and his new companions. His excitement quickly trends to disappointment when it is revealed the chest had been used as a storage locker for the filthy goblins, and is stuffed with worn and unkept, small humanoid attire just packed into it haphazardly.
The room now safe, Rainey enters and begins looking around for extra valuables. Remembering the table in boss room from before, he scans the underside of this one, and the chairs, and finds nothing unusual. Aside from causing some common centipedes, roaches, and various other creepy crawlers to scatter, nothing else is found when the nasty beds and bedrolls are disrupted during inspections.
Attachment: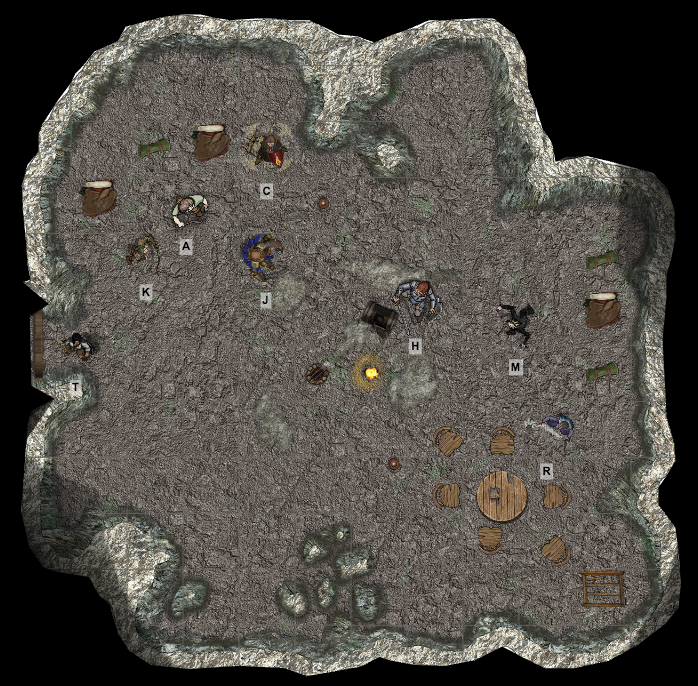 Enclosed.png [ 955.42 KiB | Viewed 110 times ]
Aside from the weapons, armor, and coins collected from the possessions of the fallen goblin bodies, no other valuables appear to be present in the chamber the group now finds themselves barred into... where only a faint bit of light escapes beyond the
spiked
speared door.
So... what is the group thinking of doing at this point?


Actions?
---
Possessions Left Behind
---
Date
: 26 Februarius, Year 7102
Time
: 14:04 (Sunrise: 06:28, Sunset: 18:18)
Temp
: 64F (69F topside)
Conditions
:
Light Sources
:
Known Conditions/Spells in Effect
:
Character Status
Mila | MU: 1 | Mv: 120/40 | THAC0: 19 | AC: 9 | HP: 5 | Armor: Unarmored | Weapons: Dagger | Spells: 1st: 1,

0

(

Shield

)
Keebler| : Elf: 1 | Mv: 90/30 | THAC0: 19 | AC: 4/3 | HP: 6-5 =

1

| Armor: Banded, Shield | Weapons: Longsword, Longbow (17) | Spells: 1st: 1,

0

(

Sleep

)
Tippin | Halfling: 1 | Mv: 90/30 | THAC0: 19 | AC: 4/3/2 | HP: 4 | Armor: Banded Mail, Shield, Dex -1 | Weapons: Short sword, Shortbow (18)
Junius | Dwarf: 1 | Mv: 90/30 | THAC0: 19 | AC: 4/3/2 | HP: 10-6 = 4-3 = 1-2 = -1+5 =

4

| Armor: Banded Mail, Shield, Dex -1 | Weapons: Scimitar, Sling (10), Shortbow (18)
AdaRue | Cleric: 1 | Mv: 60/20 | THAC0: 19 | AC: 4/3 | HP: 5 | Armor: Banded Mail, Shield | Weapons: Mace, Staff | Spells: 1st: 1,

0

(

Protection from Evil

)
Canun | Cleric: 1 | Mv: 60/20 | THAC0: 19 | AC: 4/3 | HP: 4 | Armor: Banded, Shield | Weapons: Mace, Sling | Spells: 1st: 1,

0

(

Light

)

Nelly | Mule: 2 hd | Mv: 120/40 | THAC0: 18 | AC: 7 | HP: 9 | #Attacks: 1 (kick or bite) | Damage: 1d4 or 1d3 | Morale: 8 | Carrying: 0 pounds | Max Load: 400 pounds

Rainey | MU: 1 | Mv: 120" | THAC0: 19 | AC: 10 | HP: 3 | Armor: Unarmored | Weapons: Dagger | Spells: 1st: 1 (Charm Person)
Hastin | Fighter: 1 | Mv: 60/20 | THAC0: 19 | AC: 4/3 | HP: 7-4 =

3

| Armor: Splint Mail, Shield | Weapons: Long sword, Javelin (3)



Marching Orders
Scout:
5-foot:

Junius
Hastin
Tippin
Keebler
AdaRue
Mila
Rainey
Canun


10-foot:

Junius & Hastin
Tippin & Keebler
AdaRue & Mila
Rainey & Canun
Rolls