Tom
looks up at the ominous clouds.
"Lots of metal hanging out under a lone tree during a thunderstorm seems a proper way to die from a lightning strike. Let's head for the cover of the woods..."
Watts
considers the large oak tree along their route, and thinks it foolish to pass a closer shelter.
"One tree or many, the odds are the same. And that one tree is plenty large enough for all of us. I say we stop there and stay as dry as we can."
"Standing in the shadow of Avocar won't keep us dry. Let's press on to the woods."
AdaRue
says, sticking close to
Mila
. After the majority indicates their preference of pressing on to the forest and bypassing the large oak,
Watts
cinches his backpack up higher and trudges along behind the rest.
The dirt road you continue to follow becomes more sloppy as the group progresses against the biting rain, but the party pushes on with a greater sense of urgency. Rounding a bend in the road shortly after passing the lone oak, it turns out it actually leads directly into the forest -- appeasing, at least slightly, any concerns over forest rangers taking issue with the reason for them being there.
Attachment: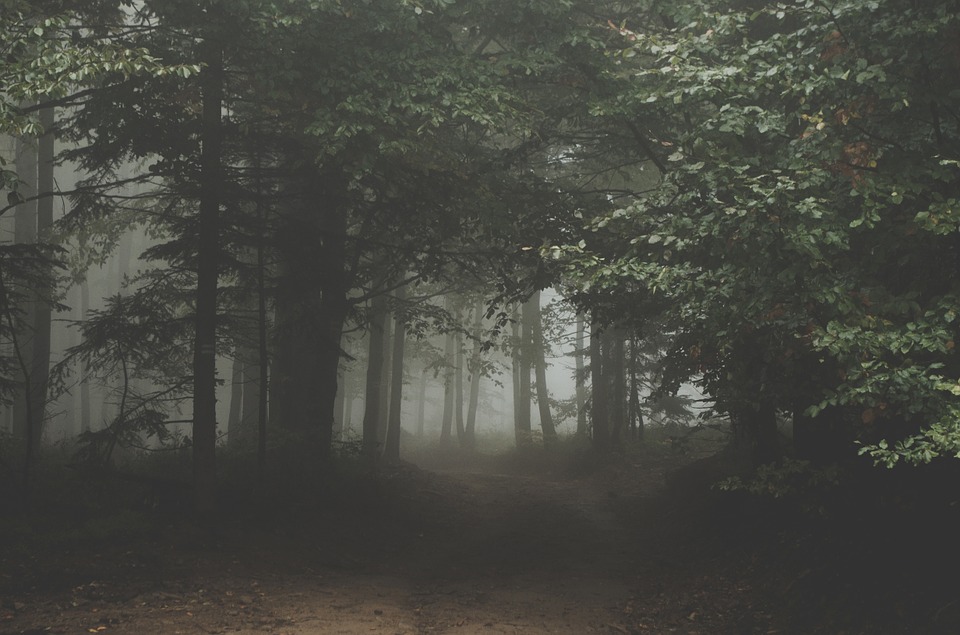 Forest of Balim - Enter.jpg [ 143.33 KiB | Viewed 269 times ]
As the forest nears, everyone increases their awareness, keeping eyes peeled for any dangers, potential hiding places for enemies, or possible areas of shelter for the party. Then, once the group enters, they quickly realize that the amble coverage above them prevents all but the random drop from reaching them, and the pattering sound of rain beating down on the leaves overhead will serve as the reminder of conditions outside.
Junius
, whose natural dwarven instincts kick in, points out that, while its gradual, the path they're following is on a slight incline.
Sticking close to the path, at least for now, the group makes sure the immediate area is safe, then takes a moment to twist dry their soaked cloaks and empty out any rainwater that accumulated in the bottom of pouches and backpacks.
While drying off,
Keebler
hears a brief shuffling noise deeper into the forest off the path to the right. Then silence.
Actions?
---
Date
: 20 Februarius, Year 7102
Time
: 12:58 (Sunrise: 06:45, Sunset: 17:43)
Temp
: 53F (48F dungeon)
Conditions
:
Light Sources
:
Known Spells in Effect
:
Character Status
Mila: MU 1 | Mv: 120/40 | AC: 9 | HP: 4 | Armor: Unarmored | Weapons: Dagger | Spells: 1st: 1
Keebler: Elf 1 | Mv: 90/30 | AC: 7/6 | HP: 6 | Armor: Std Leather, Shield | Weapons: Longsword, Shortbow (20)
Tippin: Halfling 1 | Mv: 90/30 | AC: 7/6/5 | HP: 4 | Armor: Std Leather, Shield, Dex -1 | Weapons: Short sword, Shortbow (20)
Junius: Dwarf 1 | Mv: 90/30 | AC: 8/7 | HP: 10 | Armor: Leather, Dex -1 | Weapons: Scimitar, Sling
AdaRue: Cleric 1 | Mv: 90/30 | AC: 7 | HP: 5 | Armor: Std Leather | Weapons: Staff | Spells: 1st: 1
Tom: Halfling 1 | Mv: 60/20 | AC: 5/4/3 | HP: 5 | Armor: Chain, Shield, Dex -1 | Weapons: Handaxe, Shortbow, Dagger
Canun: Cleric 1 | Mv: 60/20 | AC: 4/3 | HP: 4 | Armor: Banded, Shield | Weapons: Mace, Sling | Spells: 1st: 1
Watts: Thief 1 | Mv: 90" | AC: 8/6 | HP: 5 | Armor: Leather, Dex -2 | Weapons: Longsword, Longbow (20)


drpete