Round 1
The group gets a closer look at the huge cephalopod, which continues to act with surprising quickness:
Attachment: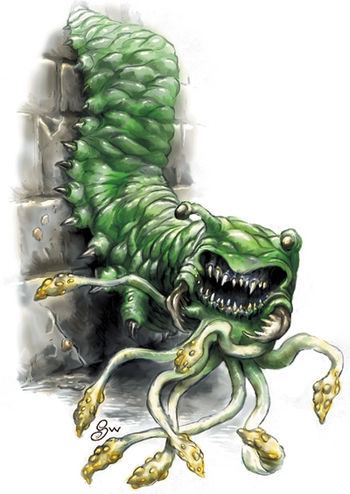 Carcass Scavenger.jpg [ 41.84 KiB | Viewed 28 times ]
The abomination overtakes
Dimly
, who, along with
Junius
, continue to form the front rank. Eight 2-foot long flailing tentacles, each exuded a gummy secretion, lash out at the frontline dwarf.
Dimly
, cursing in anger, manages to fend off attack after attack, but eventually allows one of the gooey tentacles to reach past his defenses. The dwarf's cursing abruptly comes to a halt, as does all of his movement, as every muscle in his body begins to tighten until he eventually stands frozen in place!
"Light it!"
cries
Horatio
as he lets loose an arrow from his long bow... which accidently sinks into the back of
Dimly
, their newly paralyzed companion unable to move out of harms way.
Keebler
,
Vernon
, and
Junius
also fires wildly at the grub, missing the massive creature as it darts to-and-fro, the sharp claws at the end of each of its eight legs tapping loudly against the cobblestone floor.
Sacro
proves to be more successful with his ranged attack, sinking a perfectly placed shot into the third body segment.
One of
Canun
or
AdaRue
manages to light and toss a torch into the oil-soaked floor, which is mostly on the opposite side of the hallway, but not completely. The creature hisses as the flame catches it.
Attachment: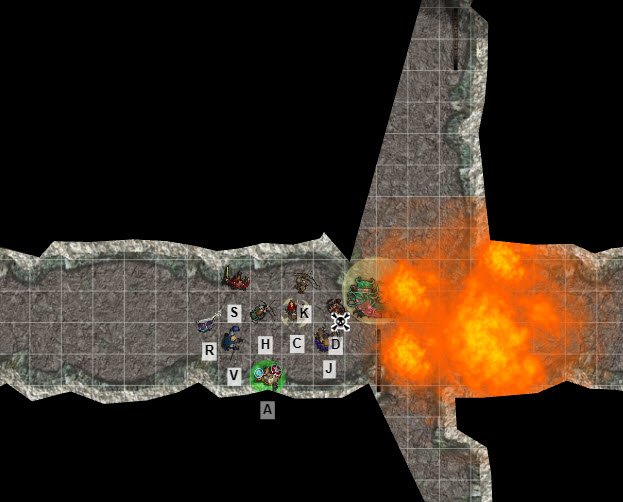 Round 1.jpg [ 58.99 KiB | Viewed 28 times ]
The carcass scavenger, seeking relief and escape from the flames, takes to the far wall and begins to easily climb it and shuffles over to the ceiling where it effortlessly looms over the rest of the party and surveys the group for its next victim... or victims.
---

The creature will take one round worth of damage from the flaming oil,
per my rule: Torches and Flaming Oil.


Actions?
---
Brighton Area Map
---
Date
: 4 Martius, Year 7102
Time
: 11:15 (Sunrise: 06:53, Sunset: 18:37)
Temp
: 62F
Conditions
:
Light Sources
:
Known Conditions/Spells in Effect
:
Canun: Light (on Wolf) (Expires: 4 Martius @ 11:19)
AdaRue: Protection From Evil (on AdaRue) (Expires: 4 Martius @ 11:40)
Rainey: Sleep (on Maggot #1) (Expires: 4 Martius @ 12:09)
Dimly: Paralyzed (Expires: Unknown)
Character Status
Junius | Dwarf: 1 | Mv: 90/30 | THAC0: 19 | AC: 4/3/2 | HP: 10 | Armor: Banded, Shield, Dex -1 | Weapons: Scimitar, Sling (10), Shortbow (23)

[5]


Sacro | Elf: 1 | Mv: 90/30 | THAC0: 19 | AC: 5/5 | HP: 4-2 =

2

| Armor: Banded, Dex -1 | Weapons: Longsword, Longbow (15)

[5]

| Spells: 1st: 1 (Sleep)
AdaRue | Cleric: 1 | Mv: 60/20 | THAC0: 19 | AC: 4/3 | HP: 10 | Armor: Banded, Shield | Weapons: Mace | Spells: 1st:

2

,

1

,

0

(Light, Protection From Evil)
Canun | Cleric: 1 | Mv: 60/20 | THAC0: 19 | AC: 4/3 | HP: 7 | Armor: Banded, Shield | Weapons: Mace, Sling | Spells: 1st:

2

,

1

,

0

(Detect Magic, Light)


Nelly | Mule: 2 hd | Mv: 120/40 | THAC0: 18 | AC: 7 | HP: 9 | #Attacks: 1 (kick or bite) | Damage: 1d4 or 1d3 | Morale: 8 | Carrying: 0 pounds | Max Load: 400 pounds

Rainey | MU: 1 | Mv: 120" | THAC0: 19 | AC: 10 | HP: 3 | Armor: Unarmored | Weapons: Dagger | Spells: 1st:

1

,

0

(Sleep)
Keebler | Elf: 1 | Mv: 90/30 | THAC0: 19 | AC: 4/3 | HP: 6 | Armor: Banded, Shield | Weapons: Longsword, Longbow (22)

[5]

| Spells: 1st: 1 (Sleep)
Horatio | Thief: 1 | Mv: 90/30 | THAC0: 19 | AC: 8/6 | HP: 8 | Armor: Leather | Weapons: Longsword, Longbow (22)

[5]


Dimly | Dwarf: 1 | Mv: 60/20 | THAC0: 19 | AC: 5/4 | HP: 8-6 =

2

| Armor: Scale, Shield | Weapons: Longsword, Dagger, Shortbow (27)

[5]


Vernon | Fighter: 1 | Mv: 60/20 | THAC0: 19 | AC: 5/4 | HP: 8 | Armor: Chain, Shield | Weapons: Bastard Sword, Shortbow (17)

Marching Orders
Scout
:
5-foot
:
Junius
Dimly
Vernon
Keebler
Sacro
Horatio
AdaRue
Rainey
Canun
10-foot
:
Junius & Dimly
Vernon
Keebler & Sacro
AdaRue & Horatio
Rainey & Canun
Rolls