On the Move

Rothal
is chastised for his impulsive act of mercy, and the wounded warrior falls quiet, and obedient. His sullen behavior makes the group wonder if the warden isn't contemplating an escape from the group if the opportunity presents itself.
Junius
and
Horatio
urge the group to press on, and the dwarf assumes the lead once again.
Exiting the altar room,
Junius
takes the first right turn:
Attachment: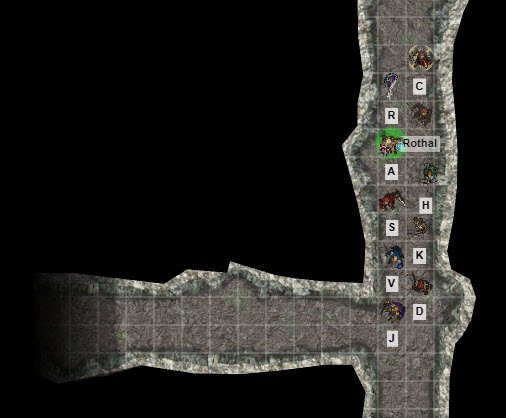 Right Turn.jpg [ 37.89 KiB | Viewed 28 times ]
Which leads the group past the practice room, from which
Rothal
was originally freed:
Attachment: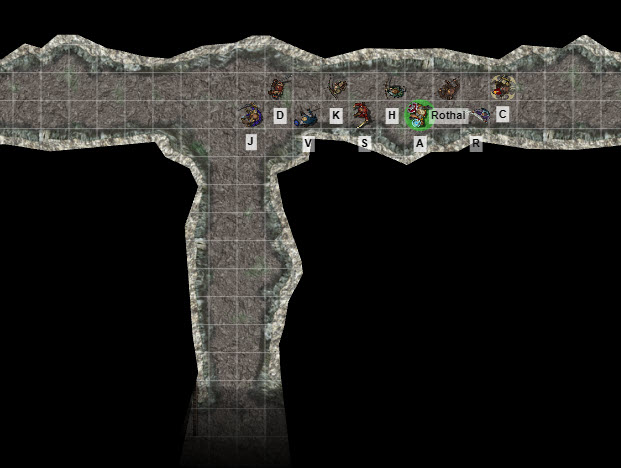 Practice Room (Rothal).jpg [ 48.66 KiB | Viewed 28 times ]
Past the guard room, where the runt goblin Gooban was freed... before being killed:
Attachment:
Guard Room (Gooban).jpg [ 46.02 KiB | Viewed 28 times ]
Before ultimately ending up at the main entry passage:
Attachment: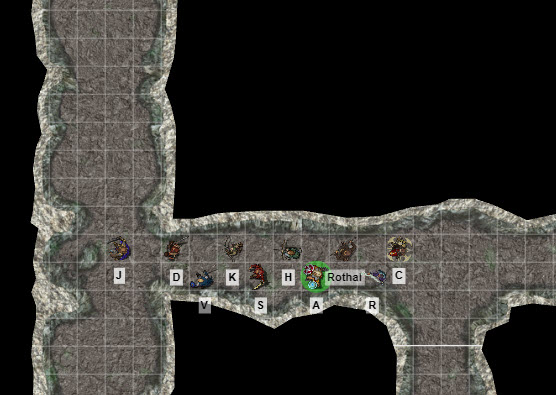 Main Entry Passage.jpg [ 50.95 KiB | Viewed 28 times ]
Junius
turns right at this main passage to enter deeper into the goblin halls.
Rothal
pauses briefly before following the others, realizing turning left represents the way home, but
Canun
still trailing behind him twarts him of any plans on escaping.
The group travels for a long stretch -- easily over 100-feet -- before
Junius
reaches the "stinky" room:
Attachment: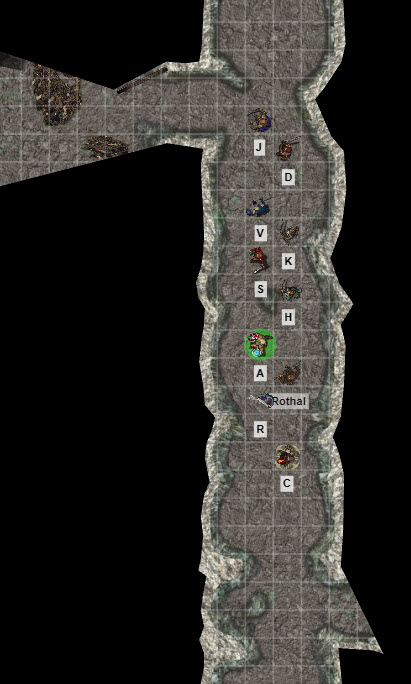 Stinky Room.jpg [ 57.9 KiB | Viewed 28 times ]
AdaRue
, still haunted with bad memories of triggering the flame trap, urges the group forward. After maybe 60 more feet, progress is halted again once
Junius
reaches another left-hand branch:
Attachment: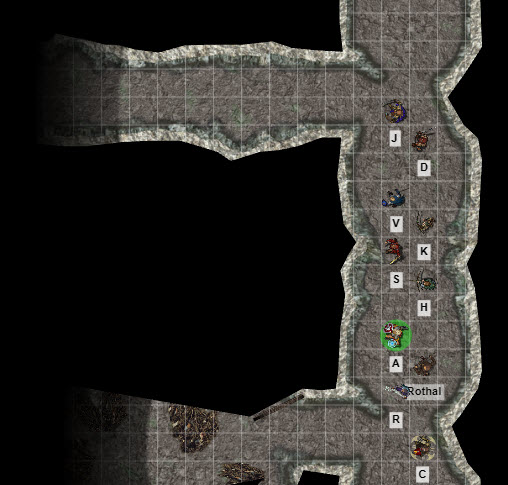 Left, or Ahead.jpg [ 54.25 KiB | Viewed 28 times ]
Straight ahead,
Junius
remembers, is the caved in area. The area to the left has not been previously explored.
---


Actions?
---
Brighton Area Map
---
Date
: 4 Martius, Year 7102
Time
: 10:03 (Sunrise: 06:53, Sunset: 18:37)
Temp
: 62F
Conditions
:
Light Sources
:
Known Conditions/Spells in Effect
:
AdaRue: Protection From Evil (on AdaRue) (Expires: 4 Martius @ 11:40)

Character Status
Junius | Dwarf: 1 | Mv: 90/30 | THAC0: 19 | AC: 4/3/2 | HP: 10 | Armor: Banded, Shield, Dex -1 | Weapons: Scimitar, Sling (10), Shortbow (25)

[5]


Sacro | Elf: 1 | Mv: 90/30 | THAC0: 19 | AC: 5/5 | HP: 4 | Armor: Banded, Dex -1 | Weapons: Longsword, Longbow (17)

[5]

| Spells: 1st: 1 (Sleep)
AdaRue | Cleric: 1 | Mv: 60/20 | THAC0: 19 | AC: 4/3 | HP: 10 | Armor: Banded, Shield | Weapons: Mace | Spells: 1st:

2

,

1

,

0

(Light, Protection From Evil)
Canun | Cleric: 1 | Mv: 60/20 | THAC0: 19 | AC: 4/3 | HP: 7 | Armor: Banded, Shield | Weapons: Mace, Sling | Spells: 1st:

2

,

1

(Detect Magic, Light)


Nelly | Mule: 2 hd | Mv: 120/40 | THAC0: 18 | AC: 7 | HP: 9 | #Attacks: 1 (kick or bite) | Damage: 1d4 or 1d3 | Morale: 8 | Carrying: 0 pounds | Max Load: 400 pounds

Rainey | MU: 1 | Mv: 120" | THAC0: 19 | AC: 10 | HP: 3 | Armor: Unarmored | Weapons: Dagger | Spells: 1st: 1 (Sleep)
Keebler | Elf: 1 | Mv: 90/30 | THAC0: 19 | AC: 4/3 | HP: 6 | Armor: Banded, Shield | Weapons: Longsword, Longbow (24)

[5]

| Spells: 1st: 1 (Sleep)
Horatio | Thief: 1 | Mv: 90/30 | THAC0: 19 | AC: 8/6 | HP: 8 | Armor: Leather | Weapons: Longsword, Longbow (24)

[5]


Dimly | Dwarf: 1 | Mv: 60/20 | THAC0: 19 | AC: 5/4 | HP: 8 | Armor: Scale, Shield | Weapons: Longsword, Dagger, Shortbow (27)

[5]


Vernon | Fighter: 1 | Mv: 60/20 | THAC0: 19 | AC: 5/4 | HP: 8 | Armor: Chain, Shield | Weapons: Bastard Sword, Shortbow (19)

NPC: Rothal
Marching Orders
Scout
:
5-foot
:
Junius
Dimly
Vernon
Keebler
Sacro
Horatio
AdaRue


Rothal


Rainey
Canun
10-foot
:
Junius & Dimly
Vernon
Keebler & Sacro
AdaRue & Horatio


Rothal


Rainey & Canun
Rolls