Round 0
"Hit and run!"
whispers
Horatio
from the shadows to
Dimly
, hoping that the dwarf will draw the goblins out and past him. Hearing their cursed goblin tongue, the dwarf swings the door wide open and barrels into the room.
"Death or glory!"
he bellows as he charges at the nearest goblin.
Horatio
remains crouched, hidden in the passage just outside the door, while the rest of the group gather at the intersection.
Keebler, Canun, Junius
, and
Sacro
all send wild shots into the room, missing all targets.
The ranged attackers see some scrambling coming from inside the room -- then the door gets slammed shut again!
Attachment: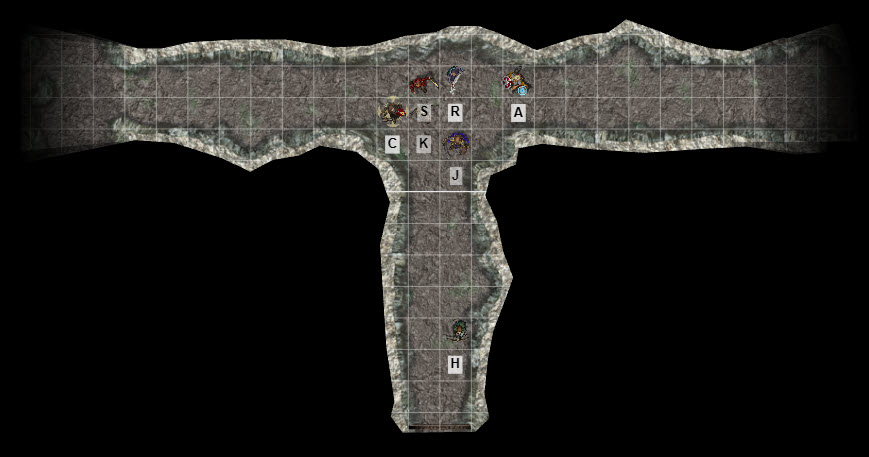 Outside.jpg [ 57.45 KiB | Viewed 58 times ]
panglott only
---



Actions?
---
Brighton Area Map
---
Date
: 1 Martius, Year 7102
Time
: 09:55 (Sunrise: 06:50, Sunset: 18:35)
Temp
: 58F
Conditions
:
Light Sources
:
Known Conditions/Spells in Effect
:
Character Status
Junius | Dwarf: 1 | Mv: 90/30 | THAC0: 19 | AC: 4/3/2 | HP: 10 | Armor: Banded, Shield, Dex -1 | Weapons: Scimitar, Sling (10), Shortbow (28)

[5]


Sacro | Elf: 1 | Mv: 90/30 | THAC0: 19 | AC: 5/5 | HP: 4 | Armor: Banded, Dex -1 | Weapons: Longsword, Longbow (19)

[5]

| Spells: 1st: 1 (Sleep)
AdaRue | Cleric: 1 | Mv: 60/20 | THAC0: 19 | AC: 4/3 | HP: 5 | Armor: Banded, Shield | Weapons: Mace | Spells: 1st: 1 (Light)
Canun | Cleric: 1 | Mv: 60/20 | THAC0: 19 | AC: 4/3 | HP: 4 | Armor: Banded, Shield | Weapons: Mace, Sling | Spells: 1st: 1 (Light)

Nelly | Mule: 2 hd | Mv: 120/40 | THAC0: 18 | AC: 7 | HP: 9 | #Attacks: 1 (kick or bite) | Damage: 1d4 or 1d3 | Morale: 8 | Carrying: 0 pounds | Max Load: 400 pounds

Rainey | MU: 1 | Mv: 120" | THAC0: 19 | AC: 10 | HP: 3 | Armor: Unarmored | Weapons: Dagger | Spells: 1st: 1,

0

(

Charm Person

)
Keebler | Elf: 1 | Mv: 90/30 | THAC0: 19 | AC: 4/3 | HP: 6 | Armor: Banded, Shield | Weapons: Longsword, Longbow (28)

[5]

| Spells: 1st: 1,

0

(

Sleep

)
Horatio | Thief: 1 | Mv: 90/30 | THAC0: 19 | AC: 8/6 | HP: 8 | Armor: Leather | Weapons: Longsword, Longbow (28)

[5]


Dimly | Dwarf: 1 | Mv: 60/20 | THAC0: 19 | AC: 5/4 | HP: 8 | Armor: Scale, Shield | Weapons: Longsword, Dagger, Shortbow (29)

[5]



Marching Orders
Scout
:
5-foot
:
Junius
Dimly
Keebler
Sacro
Horatio
AdaRue
Rainey
Canun
10-foot
:
Junius & Dimly
Keebler & Sacro
AdaRue & Horatio
Rainey & Canun
Rolls