Chapter 8: Against the Cult of the Reptile God

Day Six.
An Abandoned Farmhouse outside the Village of Briarsgate
Dawn. Friday, October 21st, 576 CY.
Cloudy, damp, cold, misty.

The bleak, grey smudge of dawn brightens imperceptibly and the twilight world of their dark crossing ends. The adventurers feel ready to collapse from exhaustion.
Avril
checks the property and
Moogeye
joins her to scout this new terrain.
The young monk notes the unharvested corn crop that signals abandonment. They find the solitary, forlorn farmhouse still deserted. To Moogeye, the lonesome structure seems to have been left by its owners in a hurry. Tools, clothes and furniture remain, including four beds on the second floor. Out back, they see the morning mist swallowing visibility at one hundred feet. They find the water pump with fresh, clean, cold water, the half bushel of crisp autumn apples, and the old barn with the faint smell of death inside.
Finding nothing amiss, the adventures set a watch, pray, eat, and succumb into a deep slumber, still choosing not to speak of the dreadful things they discovered in the hellish, serpentine tunnels beneath the village, and their dire implications.
Their dreams, however, speak volumes.
Unbidden, the disturbing memories of the insidious reptilian atrocity, that they could not bring themselves to mention in their waking hours, haunts their nightmares with vile abandon.
Attachment: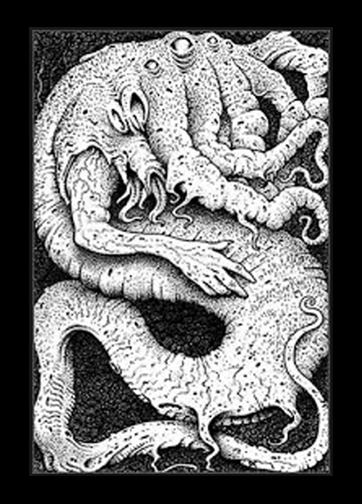 the ghastly abomination.jpg [ 154.28 KiB | Viewed 739 times ]
Whether by supernatural malevolent visitation, divine omens of doom, or simply the subconscious mind's desperate need to comprehend the inexplicable; the horrific graven images of unholy worship plague their restless sleep.
Attachment:
the masks.jpg [ 249.77 KiB | Viewed 739 times ]
In the waking world, their watch cycles through without event. By afternoon, everyone is awake.
Avril, Bo and Ingrid
have recovered their holy gifts.
The Hookhill Road is quiet and the exhausted crows struggle to stay awake.
There is still no sign of
Hoom or Mouser
. The surviving investigators consider the next move in their desperate efforts to free Briarsgate from the sinister grip of profane evil.
Actions?
and please roll for healing. Thanks.

Status:
Avril Hollysword, Half-Elf Fighter/Cleric 1/2: AC 7, HP

5

/10, Spells: 4/4 1st lvl
Grothnak Uthglukh, Half-Orc Fighter 3: AC 4, HP 16/28
Ingrid Esthof, Human Cleric 3: AC 3(1), HP

6

/16, Spells: 4/4 1st lvl and 3/3 2nd lvl
Long Bo, Human Druid 3: AC 6, HP 9/22, Spells: 5/5 1st lvl, 3/3 2nd lvl and 1/1 3rd lvl
Moogeye Comcra, Human Monk 2: AC 8, HP

2

/11
Pelias Blanchflower, Human Paladin 2: AC 2(0), HP 8/19, Laying Hands: 0/1
Telkis Brassfang, Gnome Fighter 3: AC 0, HP

3

/19
Magic:
Protection from Evil (Pelias): -2 to AC and +2 to saving throws against evil, in a 10 foot radius around Pelias.
Resources: