Day Six.
Village of Briarsgate, Beneath the Golden Grain Inn
(
6
)
.
Friday, October 21st, 576 CY.
Full moon, partly cloudy, damp, cold, misty.

The adventurers have worked their way into a grave that might soon be their own. Entombed alive at the bottom of a dark crypt of violated coffins, they desperately search for a way out of the underworld, as black smoke starts to seep in. A decrepit ladder in a rectangular shaft leads up to a dead end.
Attachment:
the shaft.jpg [ 218.3 KiB | Viewed 219 times ]
Pelias
gathers his cloaks and the tattered garments of the desecrated dead and tries to block the deadly smoke from suffocating them to death. Then he mumbles a desperate prayer.
Ingrid and Telkis
lend cloaks and bedrolls to Pelias' effort, and the deadly ebon mists slow. The gnome examines the excavated area of the dank sepulcher and finds no other means of escape.
Moogeye
climbs the rungs 25 feet up to the roof of the vault but cannot budge its stone ceiling. She climbs down.
Grothnak
scales the rickety ladder in his heavy armor and exerts himself mightily, trying to move the massive tombstone that seals them in. He injures his back and slowly descends, grumbling.
Avril
sees no light betraying the existence of cracks or weaknesses in the roof of the tomb. Full of determination and the blessings of Corellon, she ascends and strains with all her diminutive strength against the massive slab. Somehow, miraculously, she manages to move the capstone of the crypt! There is the deep sound of stone on stone and a cold blast of clean, fresh air rushes in through the crack that is wide enough for escape. The few remaining tendrils of black smoke still emanating from the blocked tunnel mouth recede.
Avril
peers out into the silent darkness and her inhuman vision detects nothing alive. The adventurers cautiously emerge from the grave, ready for a battle that does not come. They pull themselves up into a grim, stone mausoleum with glass-less, barred windows and an unlocked iron gate. They stagger out, mud soaked and thick with the stench of death, not unlike undead horrors emerging from the crypt.
It is still night but, beneath the full harvest moon, they recognize the misty forlorn graveyard of Briarsgate (
west of 4
). Cemetery angels seemingly mourn their return, at last, to the land of the living.
Attachment: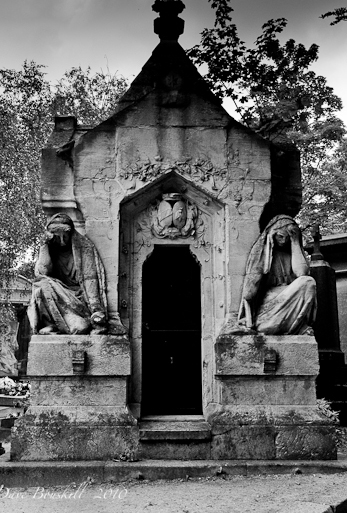 The Tomb.jpg [ 156.12 KiB | Viewed 219 times ]
The eastern sky writhes with a pale orange pulse, heralding the dawn.
Had they really crawled through the grisly catacomb channel for six hours?
No. Wait. That isn't sunlight in the sky. It's firelight. Coming from the direction of the Golden Grain Inn (
6
).
Actions?

Map:
DM Notes:
Status:
Avril Hollysword, Half-Elf Fighter/Cleric 1/1: AC 7, HP

4

/9, Spells: 0/3 1st lvl
Grothnak Uthglukh, Half-Orc Fighter 2: AC 4, HP

5

/17
Ingrid Esthof, Human Cleric 3: AC 3(1), HP

6

/16, Spells: 0/4 1st lvl and 0/3 2nd lvl, Lantern
Long Bo, Human Druid 2: AC 6, HP

2

/15, Spells: 0/4 1st lvl and 0/2 2nd lvl, Lantern
Moogeye Comcra, Human Monk 2: AC 8, HP

2

/11, Lantern
Pelias Blanchflower, Human Paladin 2: AC 2(0), HP 8/19, Laying Hands: 0/1
Telkis Brassfang, Gnome Fighter 2: AC 0, HP

3

/19
Magic:
Protection from Evil (Pelias): -2 to AC and +2 to saving throws against evil, in a 10 foot radius around Pelias.
Resources: