Village of Briarsgate
The Gade Family Farm
Late Evening. Wednesday, October 19th, 576 CY
Cold, rainy, misty

The rest of Pelias' party has fled the
Golden Grain Inn
(
6
) and traveled through the rainy night to
the Gade family farmhouse
(
19
), making good speed in the aftermath of the powerful storm.
They arrive safely, but the Gades' home is completely dark and its front door hangs wide open in the wind like a gaping wound!
From 50 feet away, they see that before the house and facing it, Pelais stands in the rainy, muddy road speaking with a small woman in leather armor with a sheathed long sword. Her blue cloak is pulled up against the downpour, covering her hair.
Attachment: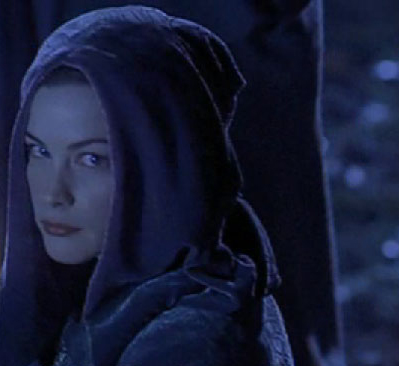 woman.jpg [ 88.02 KiB | Viewed 564 times ]
Pelias
and the
mysterious woman
both turn to face the party as it emerges from the mist, the rain and the darkness.
Actions?

Status:The Grey Mouser,
Half-Elf Magic-User/Thief 1/2: AC 4, HP
1
/10, Spells: 1/1 1st lvl.
Groggy (-2 to hit)
Grothnak Uthglukh,
Half-Orc Fighter 2: AC 4, HP
1
/17
Hoom Feethos,
Elven Magic-User/Thief 1/2: AC 3, HP
6
/8, Spells: 0/1 1st lvl
Ingrid Esthof,
Human Cleric 3: AC 3(1), HP 14/16, Spells: 1/4 1st lvl and 2/3 2nd lvl.
Very groggy (-4 to hit)
Long Bo,
Human Druid 2: AC 6, HP
5
/15, Spells: 3/4 1st lvl and 0/2 2nd lvl
Pelias Blanchflower,
Human Paladin 2: AC 2(0), HP
2
/19, Laying Hands: 0/1
Telkis Brassfang,
Gnome Fighter 2: AC 0, HP 15/19
Groggy (-2 to hit)
Magic: Protection from Evil
(Pelias): -2 to AC and +2 to saving throws against evil, in a 10 foot radius around Pelias.
Map of Briarsgate
NPC List for Briarsgate