Day Four
Village of Briarsgate
Late Evening. Wednesday, October 19th, 576 CY
Cold, Thunderstorms

Mouser's interrogation subject
points accusingly at the strangers, the others, the outsiders, those not of Briarsgate that are within his baleful sight, his face transformed into a perfect mask of hatred as he roars:
"RAAAAAAAAAAAAAAAAAAAAAAAAAAAAAAAAAAAAAAAAAAAAAAAAAAAAAAAAAAAAAAAAAAUGH!"
Attachment: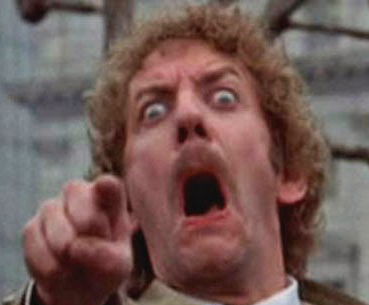 perfect mask of hatred as he roars.jpg [ 77.8 KiB | Viewed 232 times ]
The demented, deafening, ear-splitting cry begins to rouse a few of the unconscious, caged villagers.
Hoom
quickly covers his sensitive, elf ears.
"Mouser, do something!"
Mouser
slams Cat's Claw's hilt into the roaring villager's skull, knocking him back into unconsciousness.
"Touched in the head, likely the lot of them,"
he comments.
"Probably under enchantment given the numbers. We should look for a sorcerer behind all this."
Ingrid
hears the scream and hurries downstairs.
"Indeed. A sorcerer, or an alchemist with a good array of will-bending potions... The poor fools..."
The priestess gets a weird feeling. If only she had a way to read their minds, their intentions, to see if there is an evil puppeteer somewhere, pulling the strings!
Mouser
trades the mad villager for another one from the iron cage; one who is already rousing. He tries again, this time stuffing his mouth with cloth. He gets the same result.
"RRRRRRRRRRRRRRRRRRRRRRRRRRRRRRRRRRRRRRRRRRRRRRRRRRRRRRRRR!"
Attachment: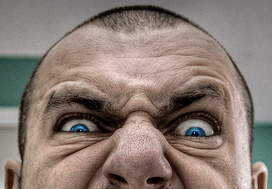 he glares at you all with burning, hateful eyes.jpg [ 59.3 KiB | Viewed 232 times ]
The new interrogation subject
tries to yell with all his might as he glares at you all with burning, hateful eyes. He squirms and lurches intensely as if suffering from a fit. Beating the villagers into unconsciousness had done nothing to change their murderous fever. Just as before, they evince no fear of death, or of torture. Of them all, only
Derek Desleigh
ever betrayed fear in his eye. He, and perhaps whoever escaped down the rope that Long Bo found.
Telkis
suggests,
"I take that as a sign we'll get no coherent information out of this lot. Perhaps we'd best go now? While we still freely can."
Long Bo
says,
"Let's investigate this last door and get the blazes out of here. These insane people aren't going to give us any valid information."
He and
Grothnak
stand ready with weapons drawn, facing the door.
Telkis
confirms the soundness of the door's structure. He tries to listen at it, but the screaming of the second villager, even through the makeshift gag, proves too much noise.
Ingrid
tells Telkis of her spell, cast earlier,
"The doors in this room are safe... from traps."
Telkis and Hoom
lift up the locking bar of the final door as Hoom says,
"If there was something on the other side of this door, it already knows we are here. Stop debating and let's get on with it so we can get out of this place."
With that, they pull the door open and look into the darkness.
Attachment: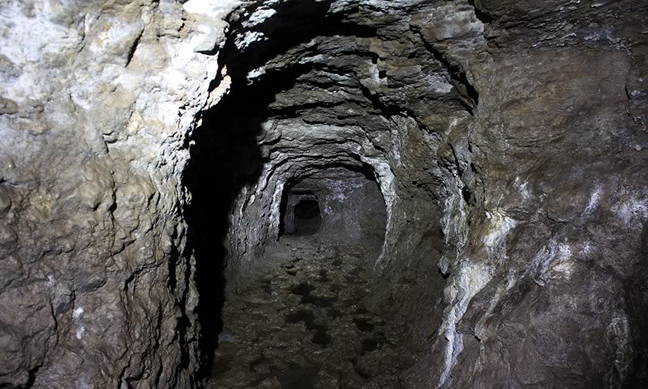 a 6' tall tunnel excavated into the dark earth.jpg [ 243.46 KiB | Viewed 232 times ]
The barred door opens onto a black, 6' tall tunnel excavated into the dark earth beneath the inn. A plague of filthy rats scurry for cover. The frigid air from the tunnel carries the sickening stench of mold, decay and death. The rough hewn shaft is haphazardly shored up every 10 feet with rotten timbers on the walls and ceiling.
Telkis
sees that the tunnel slopes downward into mud and standing water from the storm's deluge. The gnome can't vouch for its integrity, especially with all the water in the ground right now.
As the party considers the dark, cold, wet, foul-smelling, rat-infested hole, a few prisoners move in their cages, slowly awakening.
Actions?
If you're going in there, I'll need:

-a single-file marching order, please
-light sources (what they are and who's carrying them)
-for you to kindly note your Status, below.
Thanks.
Attachment: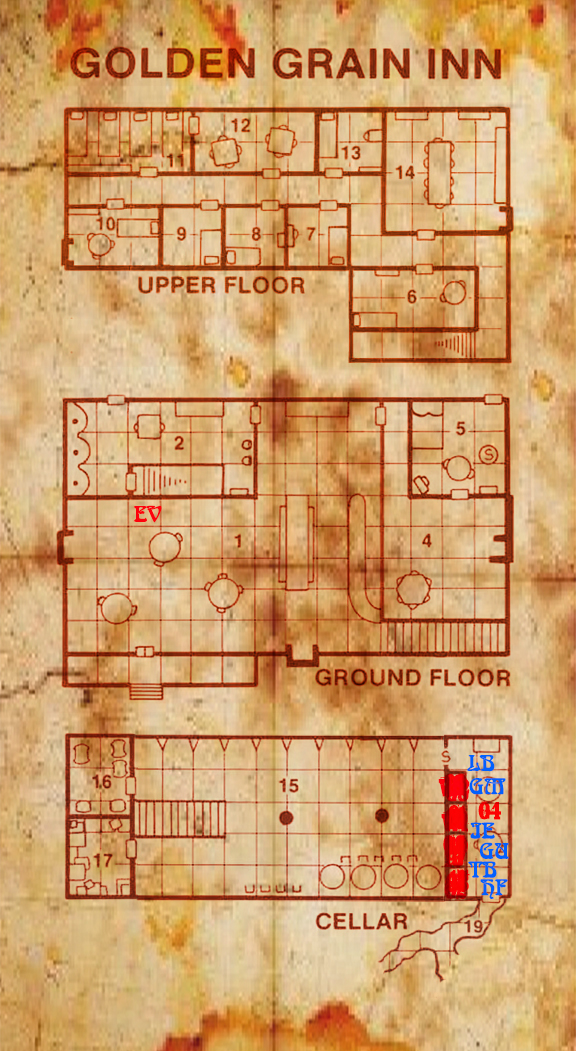 Golden Grain Inn Map .jpg [ 554.55 KiB | Viewed 232 times ]

Status:The Grey Mouser,
Half-Elf Magic-User/Thief 1/2: AC 4, HP
1
/10, Spells: 1/1 1st lvl.
Groggy (-2 to hit)
Grothnak Uthglukh,
Half-Orc Fighter 2: AC 4, HP
1
/17
Hoom Feethos,
Elven Magic-User/Thief 1/2: AC 3, HP
6
/8, Spells: 0/1 1st lvl
Ingrid Esthof,
Human Cleric 3: AC 3(1), HP 14/16, Spells: 1/4 1st lvl and 2/3 2nd lvl.
Very groggy (-4 to hit)
Long Bo,
Human Druid 2: AC 6, HP
5
/15, Spells: 3/4 1st lvl and 0/2 2nd lvl
Telkis Brassfang,
Gnome Fighter 2: AC 0, HP 15/19
Groggy (-2 to hit)
Map of Briarsgate
NPC List for Briarsgate