Coxa II: Showdown in the Coxan VillageStardate 2271.3.24: 1626h
The Janus is due to rendezvous in orbit at 1800.

(
3 rounds in this one, lots fire traded back and forth!
)
Wordlessly, the surviving crew members set their phasers to disrupt as ordered and fire on the enemy! Hot beams of destruction whip about the village, blasting smoking holes into the crenelations that the Romulan Commander is using for cover!
Fearless of death, the Romulan Commander calmly takes aim at her chosen target: the two nearest to her, the rifle-armed ensigns who are using the low street wall for cover. Ensign Patel stares down the barrel of her exotic weapon, hypnotized by the ball of plasma about to be released his way…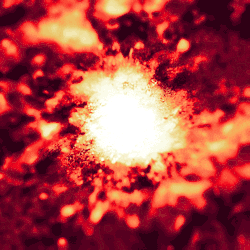 When out of nowhere a phaser shot strikes out near her face! Nadix's carefully aimed shot is dissipated by the strength of her combat belt's personal energy field, but the upset is enough to spoil her aim and the plasma charge goes wide, exploding into the ground behind Ensign Patel.
Frustrated, the Romulan Commander ducks behind cover to recharge her weapon, and Chief Endilev—whose unfamiliarity with this new weapon has caused his own plasma shots to miss widely—takes the opportunity to run back into the street, toward the large rock hiding Dr. Ryerson, in the hope of getting closer to his target.
However, mere moments before Endilev can reach the safety of the rock, the Romulan Commander resurfaces to deliver another deadly fireball, this time at him! The feisty Andorian is struck hard and flies to the ground, hurt and bleeding. The Doctor has to provide covering fire to give him time to crawl up to safety!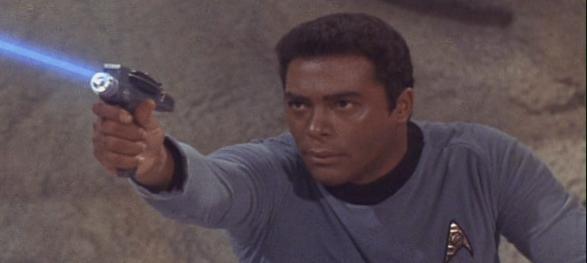 Phaser fire continues to light up the street, and more well placed shots from Nadix and Ryerson cut through the Commander's shields completely, causing her moderate wounds and leaving her exposed as her force field sizzles and buckles. Beams strike her strange helmet, but the angle must be poor and they glance off harmlessly.
Meanwhile, Engineering Chief Endilev crawls up to the rock and peers out with his charging plasma weapon ready to kill, despite his wounds!
He sends his plasma ball flying and it strikes the exposed and wounded Commander square in the chest! The great explosion sends her flying, and dramatically she reels forward off the roof and drops onto a pair of barrels on the ground! It is clear to all that the Romulan Commander's time has come.
Actions?

Rolls:

Gareb Endilev — DX 13 (+1), CT

12

/15 — plasma pistol (12/12)
Nadix Ar Eth — DX 16 (+4), CT 12/12 — phaser II (24/24)
Dr. Ned Ryerson — DX 13 (+1), CT 12/12 — phaser II (24/24)
Ensign Patel — DX 10, MN 12, LK 12, CT 13/13 — phaser rifle (32/32)
Ensign 2 — DX 10, LK 11, CT 12/12 — phaser rifle (32/32)

Ensign 3

Ensign Rodney