Coxa II: The landing siteStardate 2271.3.24: 1515h

The youth hesitates, looking the party up and down.
"I know you—your the people who came to the village yesterday!"
His anger slackens a little, and soon the Rod is exchanged, a shaky peace is declared, and both parties reconvene in the clearing.
The young man is Byros, and his comrades are out to lynch the pirates. He begins to explain the situation more fully, and as he does so you get the impression that he has little love for your party as well, even if your association with pirates is merely circumstantial.
"Your pretenders came to us one moon ago, and demanded that our priests take them to the Forbidden Temple, which was built by the gods long ago over the entrance to the Underworld. Of course they were refused. Its location has been a secret to all but our priests for centuries, and anyone who tells of it to another soul will suffer eternal damnation. They left in anger, and we did not hear from them again until days ago. It was then that I overheard them whispering to each other that they would need the Rod of Life to open the Temple. Their scientists said that taking the sacred Rod away would slowly destroy all life on our world, but the others did not care. So I told our elder, Watrius, but that old fool would not believe me. 'The gods have their ways,' he said!"
Byros glares about angrily as he continues his story, puffing his chest out with youthful pride.
"And so our village was divided. We rebelled, and I am their leader. I was going to steal the Rod and hide it until they were exposed, but Hemda—she is the daughter of Watrius—she ran off with it first! But she only did so out of…"
He seems heartbroken as he tells his story.
"…The penalty for taking the Rod is at best, banishment, and at worst… death."
He finishes by explaining that today, in the very early hours of the morning, Ursula Norton, or "the false Yormahan, Goddess of Death" as he calls her, once again stole the Rod and disappeared into the wilderness, after torturing and murdering every priest who was at the temple.
"We are hunters,"
he says,
"and have followed her tracks to this place. But if you are here, where is she?"
"—You needn't hunt longer, boy,"
says a voice from the trees. All turn to see Ursula standing at the edge of the clearing, holding a very frightened Hemda in her grasp.
"Now be a dear and hand over the Rod,"
she says, casually waving her disruptor as though it were a cigarette in her slender fingers.
Watrius, looking very troubled, is also standing next to her, next to a gruff and shifty-looking village priest, and six stoic warriors.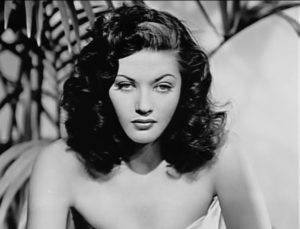 Actions?

Gareb Endilev — DX 13 (+1), CT 15/15 — plasma pistol (12/12)
Nadix Ar Eth — DX 16 (+4), CT 12/12 — phaser II (24/24)
Dr. Ned Ryerson — DX 13 (+1), CT 12/12 — phaser II (24/24)
Ensign Patel — DX 10, MN 12, LK 12, CT 13/13 — phaser rifle (32/32)
Ensign 2 — DX 10, LK 11, CT 12/12 — phaser rifle (32/32)
Ensign 3 — DX 7 (-2), LK 9, CT 15/15 — phaser II (24/24)

Ensign Rodney