Hyde pulls a torch from his pack and lights it, throwing it into the west end of the room. It lands, bounces...
Torch saving throw (3) [1d20] = 12
...and continues to burn. The room, now fully illuminated, is quite bare. A few large stones lie scattered about, but otherwise no movement or signs of life are detected.
The party warily looks at the ceiling, Yenny calling out a warning in a most Yenny-like fashion. Others debate the nomenclature of the pointy spikes hanging down.
Undaunted, Chet, Figgis, and Galan look for loose stones or other traps along the path heading north.
DM rolls dice
They slowly and methodically make their way north, finding nothing yet, when suddenly a soft *pop* is heard coming from above. The remainder of the party, waiting patiently, calls out as a stalactite, 3' long, releases 15' above.
It falls directly towards
Target Chet (1) Galan (2) Figgis (3) [1d3] = 2
Galan.
Attack Galan [1d20] = 18 crit [1d100] = 35
Damage to Galan [2d6] = 3
The deft gnome moves quickly, but the spike still manages to scrape along his torso and cracks to the ground, falling on its side. Long, strange filaments pop out of the rock-like object...it appears to be trying to move!
I'll reduce the usual surprise chance since the party was actively looking for the spikes to fall, but the scouts were also occupied with searching for traps.

Surprised? 1-3 yes [1d6] = 4

Since they weren't surprised, Chet, Galan, and Figgis will get a free attack on the spike if they so desire, in addition to another action this round.

Actions? If it helps, there appear to be about 4 spikes hanging from the ceiling for every 10'x10' section of ceiling. The map below shows the position of the scouts and the remainder of the party.
Attachment: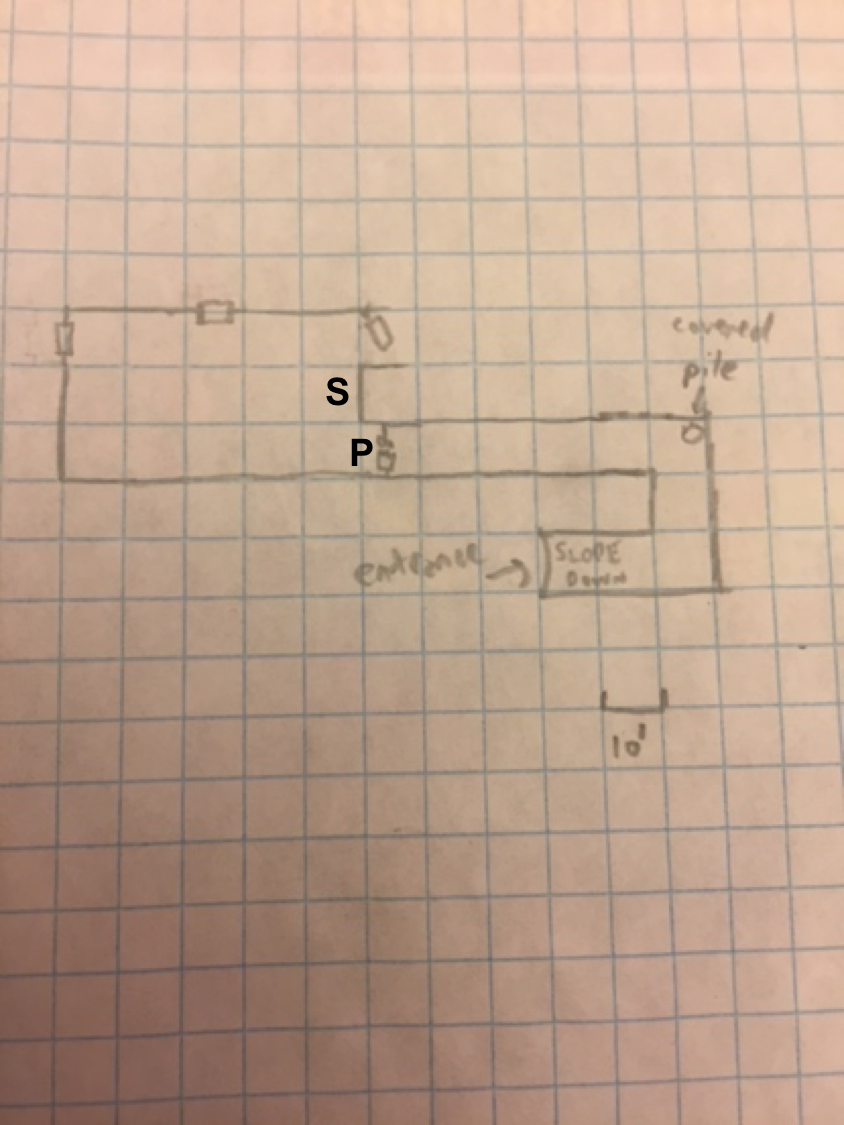 StrodNov9.png [ 1015 KiB | Viewed 119 times ]
Date
: 25 Culling, Year 44
Time
: 07:39
Conditions
: 44F, damp
Known Spells in Effect
: None
Light bearers
: Yenny's light, Hyde's torch burning in west end of room until 08:37.
Intended Direction of Travel
: towards northeast door
Injury Status
: Galan lightly wounded